Fox Spirit Matchmaker: China's first comic themed park opens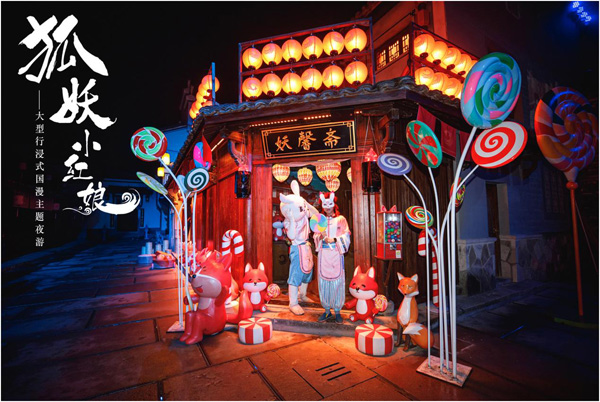 A view of the Fox Spirit Matchmaker scenic area, Hangzhou, Zhejiang province. [Photo/zjol.com.cn]
China's first scenic area themed on comics, named Fox Spirit Matchmaker, opened during the Labor Day holiday in Hangzhou, capital of East China's Zhejiang province. The scenic area is based on an anime of the same name. It's the first theme park to integrate immersive performances with night tours.
Created by Hongyi Cultural Tourism, with exclusive authorization from Tencent Animation and Cartoon, the scenic area presents classic scenes from the anime, bringing an immersive experience for the visitors.
"This IP is a new culture with rich content, so we combine tourism with the new culture. And it's also a combination of tourism and technology," said Luo Jun, deputy general manager of Hongyi Group.
"The most important thing for our cooperation with the scenic spot is to satisfy the cartoon's core fans. And we also hope that we energize traditional Chinese culture with themes that attract young people," said Mei Xue, copyright manager of Tencent Animation and Comics.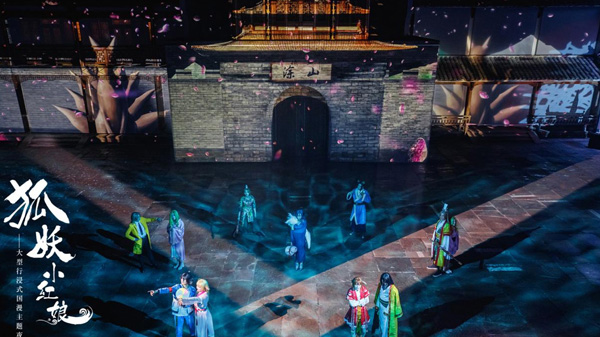 A view of the Fox Spirit Matchmaker scenic area, Hangzhou, Zhejiang province. [Photo/zjol.com.cn]
Thanks to the high popularity of the original work, the scenic area has attracted much attention since it began trial operations at the beginning of this year.
While restoring famous scenes from the Fox Spirit Matchmaker, the area also gives visitors a chance to closely witness romantic love affairs while walking around and truly enter the world of anime.
Address: No 19 Liuxi Xinjie, Heqiao town, Lin'an district, Hangzhou