Young people from across the Straits build photographic ties in Hangzhou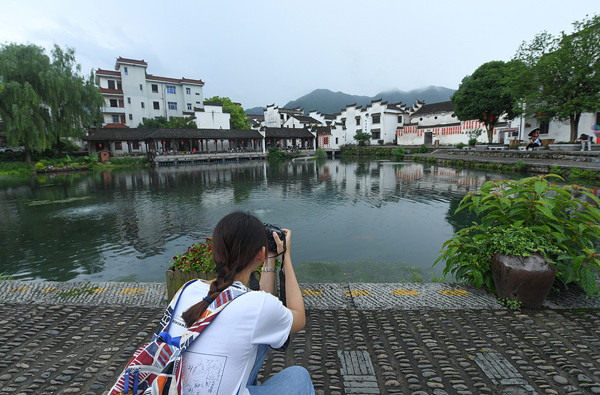 A student from Taiwan takes a photo of Longmen ancient town in Fuyang district, Hangzhou. [Photo/CFP]
A group of young people from the Chinese mainland and Taiwan sharpened their photography skills and strengthened their friendship in Longmen ancient town, Fuyang district, Hangzhou on May 16.
In drizzling rain, the ancient town's tranquil natural landscapes and elegant buildings instantly attracted the attention of the youngsters and they couldn't help but use their cameras, mobile phones, and drones to record the town's beauty and elegance.
"I'm mostly impressed by the town's well-preserved buildings from the Ming and Qing dynasties (1368-1911) and I've taken many photos to share with my family and friends in Taiwan," said Yeh Li-hsiu, a third-year student at the Zhejiang Chinese Medical University.
Wang Chien-hui, who has been interested in photography since childhood, said she believed that photos are a kind of silent communication through which people's moods and feelings are revealed.
She was excited to try her hand at using a drone for the first time, saying "I enjoyed taking aerial photos and appreciating the landscapes from different angles."
Lin Hsin said she was happy to make friends from the Chinese mainland and that "We were too shy to talk to each other at first". She also said the white walls and black tiles of Longmen ancient town changed her impression of the culture in Jiangnan, or regions south of the Yangtze River.
The students also visited Shangguan, a township regarded as the home of rackets in China, and learned about its development into a manufacturing hub of the racket industry.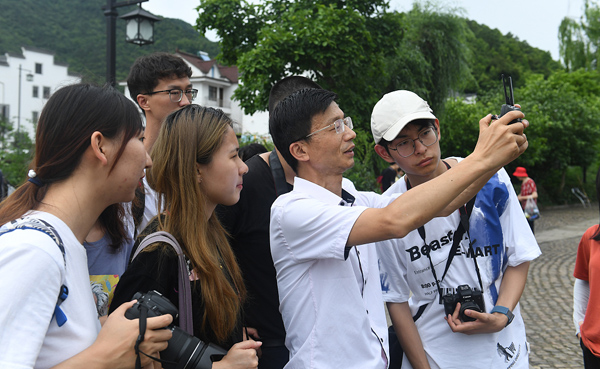 Young people from the Chinese mainland and Taiwan learn to fly a drone on May 16. [Photo/CFP]