China International Tea Expo opens in Hangzhou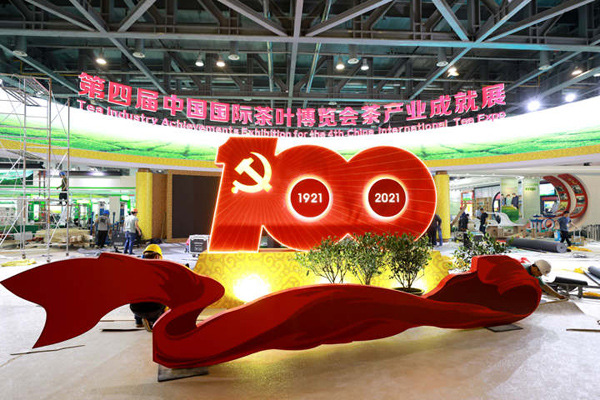 The 4th China International Tea Expo is held in Hangzhou, Zhejiang province from May 21 to 25. [Photo/zjol.com.cn]
The 4th China International Tea Expo opens in Hangzhou, Zhejiang province on May 21, local media outlets reported.
With a theme of "Tea and the world share development," the five-day event has attracted more than 1,500 exhibitors, 1,013 of which are tea makers, 143 are tea set producers, 55 are tea packaging manufacturers, and about 300 are engaged in tea-related industries.
Exhibitors from countries like Sri Lanka, Japan, South Korea, and Nepal are also attending the event.
With an exhibition area of 70,000 square meters in total, the event features a variety of exhibition halls, such as one looking back to the history and development of China's tea industry over the past 100 years, one demonstrating the digital moves and innovative applications realized in promoting Chinese tea culture, as well as ones showing renowned tea types in the Chinese mainland, Hong Kong, Macao, and Taiwan.
In addition to allowing free entries based on in-advance appointments via its official website, the event has also opened an online visitors' channel to pop up services including the latest exhibition information, livestreams, and online sales.
The expo was co-organized by the Ministry of Agricultural and Rural Affairs, as well as the Zhejiang Provincial Government.
Address: No 353 Benjing Avenue, Hangzhou International Expo Center, Xiaoshan district, Hangzhou
Time: 9 am to 5 pm from May 21 to 24, 9 am to 3 pm on May 25
Transportation: Metro Line 6, Shuttle lines 1 and 2
A foreigner tries his hand at making Longjing tea in Hangzhou. [Video/China Matters]