Global educator finds home in Hangzhou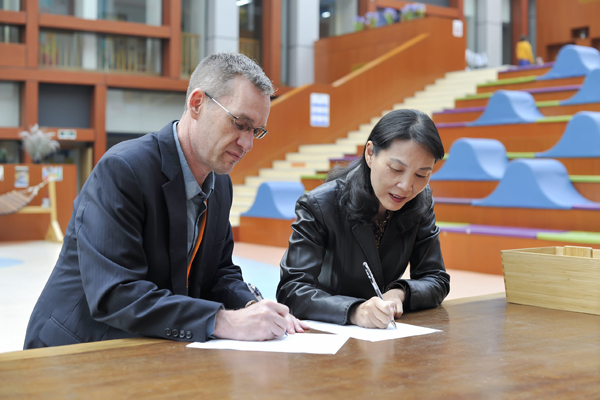 Robert Mullins works with his Chinese colleague at Hangzhou Wahaha International School. [Photo/wischina.org]
Robert Mullins officially started his role as the new executive principal of Hangzhou Wahaha International School, a school that currently has more than 200 students and faculty members from different countries, in August 2020.
In addition to promoting cultural diversity on the campus, Mullins and his colleagues have also encouraged students to think beyond their grades and focus on developing skills based upon their interests.
He has also invited students to interact with local residents and try to blend local culture into their daily lives, such as taking a field trip to the local Longwu village and experience tea harvesting in the spring.
"Going global" is a lifelong practice that Mullins has been following and also the path that he wants to guide his students to walk on.
"Being a future global citizen, one should be able to adapt into local communities, while remaining culturally conscious and preserving their own cultural identities," Mullins said.
He said that Hangzhou is his new home not only for his career, but also for his family, as his Chinese wife and their one-year-old daughter are here with him.
He joked that his daughter has been "helping" him become a global citizen as when she plays with other babies, he naturally gets drawn into conversations with local residents that are also watching their children.