Silk Road Week to show spirit in Hangzhou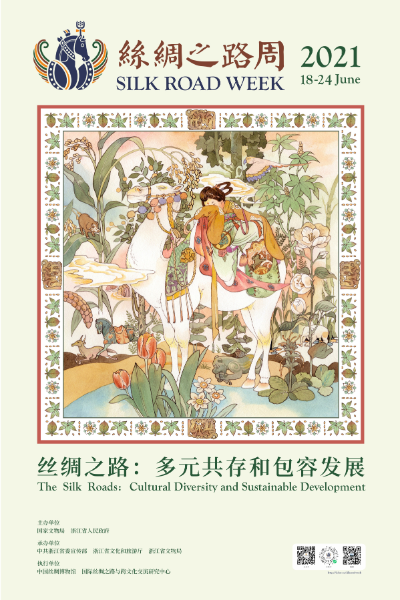 A poster for 2021 Silk Road Week. [Photo provided to chinadaily.com.cn]
The 2021 Silk Road Week will be held in Hangzhou, Zhejiang province, from June 18 to 24, it was announced at a news conference at the China National Silk Museum on Thursday.
Zhao Feng, secretary-general of the Silk Road Week Academic Committee and director of the China National Silk Museum, briefed attendees on the history of Silk Road Week and the schedule for this year's events.
During the seven days, museums and cultural agencies along the Silk Road will hold various activities such as exhibitions, meetings and performances to promote the Silk Road spirit of peace and cooperation, openness and inclusiveness, mutual learning and mutual benefit, and to celebrate the addition of the Chang'an-Tianshan Corridor of the Silk Road to UNESCO's World Heritage list.
Themed "Cultural diversity and sustainable development", the event will feature exhibitions, academic conferences and livestreams by more than 100 cultural agencies around the world.
It is sponsored by the National Cultural Heritage Administration and the Zhejiang provincial government.
Highlights of the event will include a themed exhibition titled Creation From Creature: Plants and Animals and on the Silk Roads, which will display natural life, species and arts. It will also include the Silk Road Museum Directors' Forum, which will introduce the Silk Road collections and future plans for theme exhibitions and global development, as well as a three-day international seminar of the various branches of the Silk Road, which is expected to discuss the current status of Silk Road research in the recent years.
The Silk Road Online Museum, created by the China National Silk Museum and more than 40 museums from home and abroad, will be launched on June 18 in a bid to promote knowledge, integration and collaboration of museums. This will break the limitation of offline space for physical collections, boost the exchange of resources and promote the spirit of the Silk Road, organizers say.
In addition, the national museum will issue a report on the archaeological discoveries and academic achievements of the Silk Road for 2020.
May 31, 2021

May 27, 2021

May 26, 2021
March 11, 2021