Gongbi exhibition presents atmosphere of splendor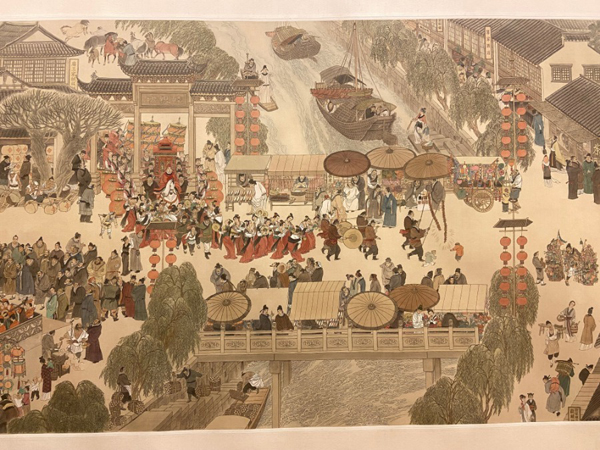 A detail of Dai Honghai's painting on show, A Panoramic View of Southern Song Imperial Street. [Photo by Lin Qi/China Daily]
Inspired by the Qingming Shanghe Tu, Dai utilized the traditional gongbi techniques of accuracy and refinement to vividly present the imperial palaces, royal ceremonies and diversity of the urban economy.
The painting is at the center of Dai's solo exhibition at the National Art Museum of China until June 6. It shows gongbi paintings, picture books and drawings for postage stamps made by Dai in a career dedicated to classical Chinese painting spanning some six decades.
Also on show is a group of 12 fan paintings on which Dai depicted the "Twelve Young Women of Jinling", or the 12 leading female figures in A Dream of Red Mansions on semi-translucent silk fans, a traditional, favored craft of Zhejiang.