Yuhang reveals big ambitions to become global talent hub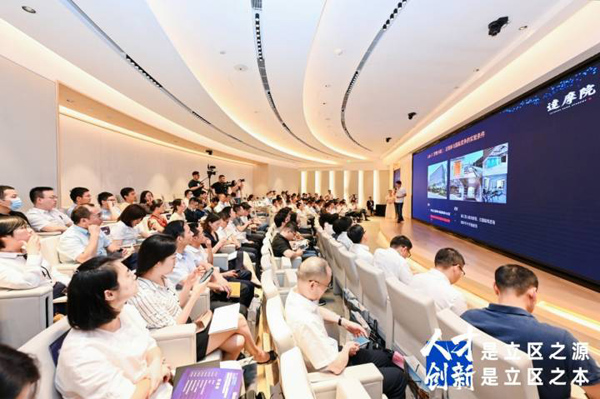 The 2021 Science and Technology Talent Week opens in Yuhang district, Hangzhou on May 31. [Photo/zjol.com.cn]
Yuhang district in Hangzhou has big ambitions to become a hub of high-end international talent in the Yangtze River Delta region, officials revealed at the 2021 Science and Technology Talent Week on May 31, local media outlets reported.
To realize the goal, Yuhang announced that it will set up a talent introduction bureau for the integration of various government departments and talent resources, as well as three sub-bureaus in its administered Future Sci-Tech City, Liangzhu New City, and Qianjiang Economic Development Zone.
AsYuhang has announced a five-year plan in early May to bring in 100 top talents, 1,000 leading talents, 10,000 youth talents, and 200,000 reserve talents, a series of supporting policies were published on the same day.
The policies include a capital pool of at least 1 billion yuan ($157 million) for teams led by top talents to carry out research in Yuhang, with each eligible to receive a maximum of 100 million yuan.
In addition to its attempts at recruiting top talents, Yuhang also aims to create a friendly environment for other talents, such as offering financial support of up to 18 million yuan to help leading talents start businesses, do research, as well as realize commercialization of their projects.
College graduates from home and abroad can also receive a living subsidy of a maximum of 2,000 yuan per month, as well as a one-time settling-in subsidy of 80,000 yuan and a rental subsidy of 60,000 yuan.
Yuhang is now home to 25 academicians of the Chinese academies of sciences and engineering, nine academicians of overseas academies, 397 overseas high-end talents ranked at national and provincial levels, as well as nearly 210,000 youth talents.
October 15, 2021

October 14, 2021

October 11, 2021
August 10, 2021