Diplomatic envoys experience glamour of Hangzhou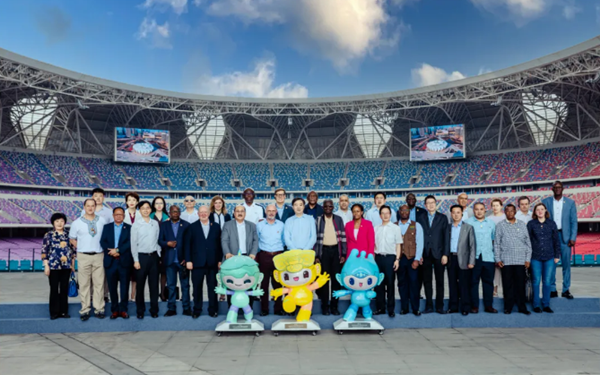 Diplomatic envoys pose for a group photo at the main stadium for the Hangzhou Asian Games in Hangzhou, Zhejiang province. [Photo/Hangzhou FAO]

A delegation of over 30 diplomatic envoys to China paid a visit to Hangzhou from June 9 to 10, as part of their tour in Zhejiang to learn more about the province in East China.
During the trip in the provincial capital city, these envoys visited Zhejiang University, appreciated tea culture, toured around the main stadium for the 2022 Hangzhou Asian Games, and were shown around a high-tech company.
These activities offered different perspectives for the delegation to feel the time-honored civilization and brilliant culture that Hangzhou offers, the high-quality development it has scored, and the happy life its citizens are leading.
"This is the city I love most," said Zeynalli Akram, ambassador of Azerbaijan to China when walking around the Zijingang Campus of Zhejiang University.
In his eyes, nowhere else in the rest of China and even the world is as attractive as Hangzhou, for it is blessed with both picturesque landscape and immense vitality.
"Hangzhou has scored visible achievements in e-commerce, which draws a lot of our attention. We believe the multiple programs we now have in cooperation with Alibaba will yield more fruitful results," noted the ambassador.
It has been the seventh time that Imad Moustapha, ambassador of Syria to China, has been to Hangzhou. He strongly appreciated the high value that the city has placed on the protection of the environment and cultural heritage.
"Syria has a time-honored history and civilization as well. Learning from Hangzhou's practices in conserving and utilizing historical and cultural heritage will certainly benefit Syria," said he.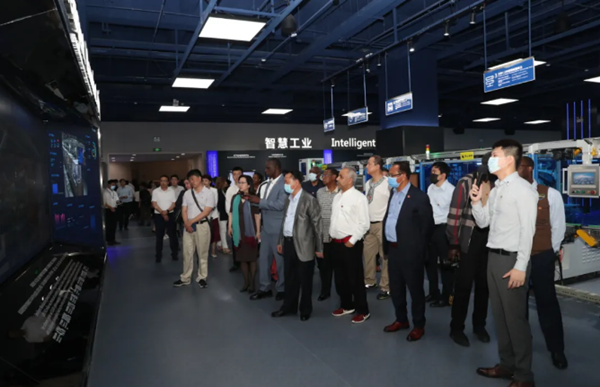 The delegation visits Chint Solar, a high-tech company boasting advanced PV technologies, in Hangzhou, Zhejiang province. [Photo/Hangzhou FAO]
During the delegation's visit to the high-tech company Chint Solar, Ali Al Dhaheri, ambassador of the UAE to China, was particularly drawn to how the company develops the smart energy system.
He believes that PV technologies in Hangzhou and other places in Zhejiang will offer experience in the implementation of solar power projects in the UAE.
In addition to holding sports events, the main stadium of the 2022 Hangzhou Asian Games, dubbed "big lotus", is expected to create more opportunities to enrich citizens' daily activities and bring them more sense of achievement, which also left a deep impression on the envoys.
After the trip, Ri Ryong Nam, ambassador of the DPRK to China, and Alain Wong Yen Cheong, ambassador of Mauritius to China, said they felt the great leadership of the Communist Party of China and the hard work of the Chinese people by witnessing Zhejiang's coordinated development of the economy, society, environment and culture.