Q Bay Center in US celebrates Duanwu Festival with overseas Chinese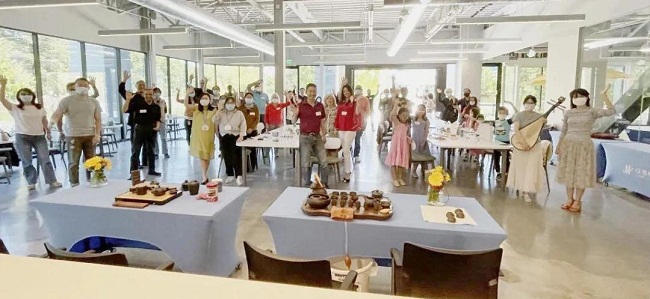 Activities related to the Duanwu Festival attracts more than 60 overseas Chinese people and Americans. [Photo provided to chinadaily.com.cn]
Q Bay Center in California's Silicon Valley organized activities to celebrate the traditional Chinese festival Duanwu on June 11.
Founded by Hangzhou Overseas Center Inc, the center serves as a platform for innovation and entrepreneurship.
Centered around the Duanwu Festival, or Dragon Boat Festival, and the tea culture in Hangzhou, the event had an exhibition stand displaying items such as perfumed medicine sachets, five-color threads and zongzi, or rice dumplings.
During the tea art performance, various tea sets, including red stoneware and black pottery, were on display and guests were invited to taste kungfu tea after the performance.
The game segment attracted many guests, including children who were born and raised in the United States. Interesting games helped them to learn more about the culture and history of their homecountry.
For Joanna, who has participated in the event twice, this year's activities had a stronger festival atmosphere compared with last year.
Judah Rous from the Bank of America Corporation said that these activities helped him learn more about traditional Chinese culture and aroused his interest in China and the country's culture.
Host of the event Brian said that preparations for the event familiarized him with Chinese culture and also enabled him to introduce Chinese culture to his family and friends.
Since 2019, the Q Bay Center has brought in nearly 30 high tech companies involving biological medicine, artificial intelligent, and semiconductor chip and attracted many startup teams.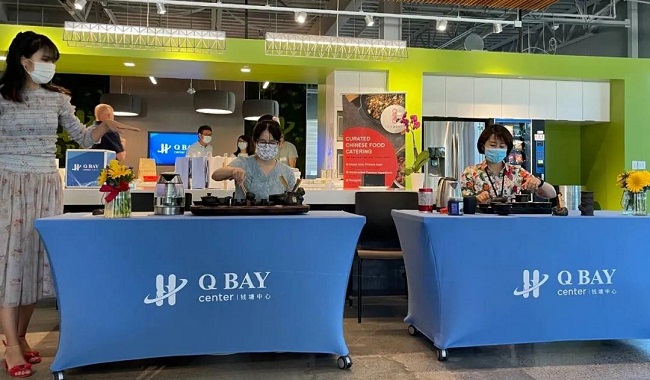 Tea art performance is presented during the event. [Photo provided to chinadaily.com.cn]