West Lake Museum
West Lake Museum
杭州西湖博物馆总馆
Address: 89 Nanshan Road, Hangzhou, Zhejiang province
Hours: 8am - 5pm
General admission: Free
Tel: (+86-571) 87882333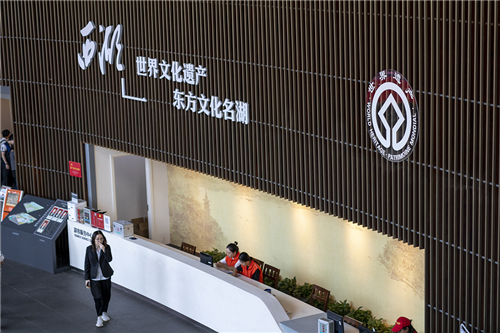 Lobby of the West Lake Museum. [Photo/VCG]
The West Lake Museum in Hangzhou was China's first lake museum. It is located on the bank of West Lake and covers an area of 22,480 square meters. Most of the building extends underground and blends into the surrounding lakes and mountains without a trace. The museum integrates the four major functions of display, West Lake studies, West Lake literature and tourist services, and was officially opened to the public on Oct 1, 2005.
In order to honor West Lake's declaration as a World Heritage, the museum was closed in Feb 2009 to enrich and adjust its contents, and reopened on Oct 1, 2009.
The building area of the adjusted West Lake Museum was expanded from 7,920 square meters to 8,500 square meters. The exhibition content closely fits West Lake's inscription, and fully demonstrates the integrity and authenticity of West Lake as a human cultural landscape heritage.
The exhibition hall of the museum includes six chapters: the preface hall, an overview of West Lake, the formation of the dredging and landscape of West Lake in dynastic times, the titled landscape of West Lake, and the culture of West Lake as a spiritual homeland.