2021 Silk Road Week opens in Hangzhou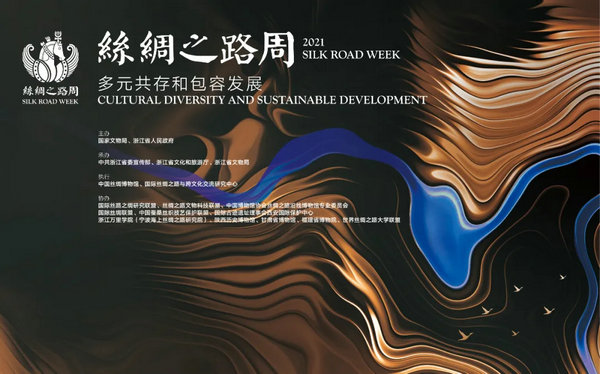 Poster of the Silk Road Week 2021. [Photo provided to Chinaculture.org]
To strengthen international cultural exchanges and promote the spread of Silk Road culture, 2021 Silk Road Week held its opening ceremony at China National Silk Museum in Hangzhou, Zhejiang province, on June 18.
Guests included officials from National Cultural Heritage Administration, the People's Government of Zhejiang Province, UNESCO Beijing Office, Consulate General in Shanghai of various countries, and experts from relevant cultural and museum institutions and universities from all across the country.
Themed Cultural Diversity and Sustainable Development, 2021 Silk Road Week will hold varied activities in conjunction with institutions from home and abroad until June 24. Activities such as Silk Road Museum Curator Forum, Seminar for Silk Road Curators, Annual Meeting of Chinese Association of Dunhuang and Turfan Studies, and several exhibitions such as Textile Archaeology in 100 Years, and Silk Road on Silk Scarves will be organized in Hangzhou.
In addition to the series of events in Hangzhou, institutions from home and abroad will successively carry out cultural relics poster relay, grotto temple exploration live broadcast, heritage lighting up the Silk Road, Silk Road culture entering the campuses, "winning a ticket to China" and other activities.
Guan Qiang, deputy director of the National Cultural Heritage Administration, attended the ceremony and delivered a speech. He said that during the 2021 Silk Road Week, with the help of new technology and new platform, the Silk Road Digital Museum jointly built by many countries enriches the channels and means of cultural exhibition and dissemination of the Silk Road, realizes the exhibition of human civilization across time and space, and promotes the international exchange and sharing of cultural resources.
Shahbaz Khan, representative of UNESCO Beijing Office, delivered a speech at the ceremony, congratulating the Silk Road Week 2021. He said that the Silk Road is known as the greatest road in human history. The 2021 Silk Road Week is a classic case of enhancing mutual understanding and understanding among people of all countries.