Intl live-streaming hosts visit, promote Hangzhou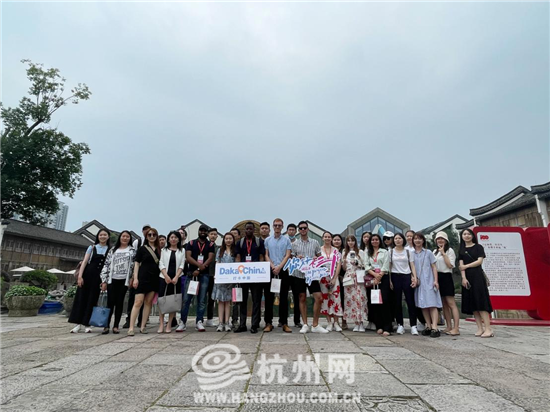 Live-streaming hosts from the United Kingdom, Italy, Croatia, and other countries visit Hangzhou from June 25 to 27. [Photo/hangzhou.com.cn]
A total of 40 live-streaming hosts from the United Kingdom, Italy, Croatia, and other countries visited Hangzhou, capital city of East China's Zhejiang province, from June 25 to 27, local media reported.

During the three-day tour, they visited the Hangzhou section of the Great Canal, the Dream Village, the venue for the Asian Games Hangzhou 2022, Xiaoshan district's future community, and Fenghuang village to witness the efforts made by Zhejiang in building a demonstration zone for common prosperity.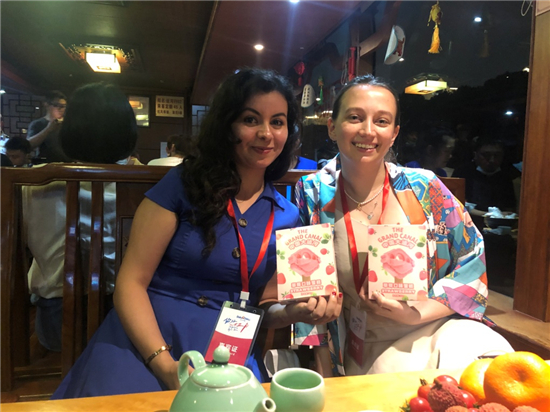 International live-streaming hosts pose for a photo while on a boat traveling on the Hangzhou section of the Great Canal. [Photo/hangzhou.com.cn]
They were also able to promote Hangzhou, while providing a comprehensive and authentic look at China to the world through their visit to the city.
UK native Saul Stollery said that Hangzhou is a beautiful city and living here makes him feel relaxed.
"I also feel that living in Hangzhou is comfortable," echoed another popular live-steaming host whose Chinese name is Lu Ke. "I live in Shanghai, where I always feel very busy, while these days in Hangzhou remind me of my peaceful hometown."
Martina Gdovinova from Slovakia said, "I like Hangzhou very much because of its fast development. For example, the future community we visited enables people to do a lot of things with their identity card."
"Hangzhou is environmentally friendly and also a perfect combination of nature and modernity," said a Moroccan live-streaming host whose Chinese name is Ashima.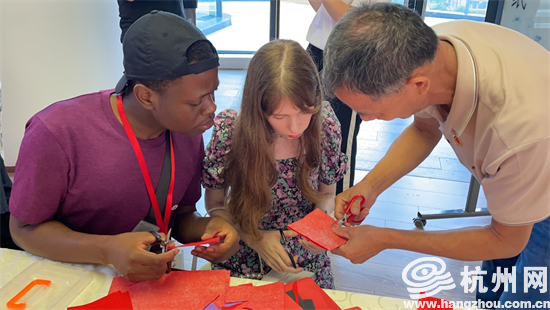 International live-streaming hosts try their hands at paper cutting in Hangzhou. [Photo/hangzhou.com.cn]