Organizers explore post-game functions of Hangzhou 2022 venues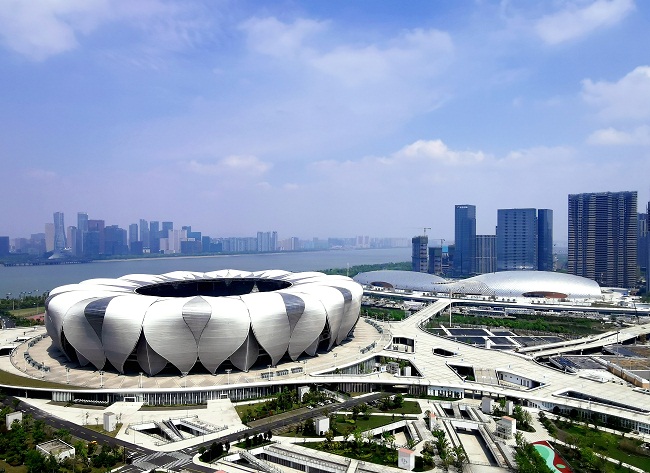 Some of the Hangzhou Olympic and International Expo Center's sports venues are expected to be open to the public after the conclusion of the 19th Asian Games Hangzhou. [Photo/IC]
A meeting was convened recently in Hangzhou, East China's Zhejiang province, about the preparations for the 19th Asian Games Hangzhou, which is set to take place in Hangzhou from Sept 10 to 25, 2022.
According to Chen Weiqiang, deputy secretary-general of the 19th Asian Games Hangzhou 2022 Organizing Committee, some of the Hangzhou Olympic and International Expo Center's sports venues will be open to the public after the Games have ended.
Chen added that the Asian Games Museum and a youth activity center will be established in the Olympic and International Expo Center following the conclusion of the sporting event.
In the second half of the year, HAGOC will organize test matches for athletics, basketball, sailboat, open water swimming, road cycling, shooting, rugby, table tennis, judo, and taekwondo.
People can book tickets for athletics' invitational tournament from July 9 to 11 via Alibaba's online ticketing platform Damai. Whether the subsequent matches will be open to the public will be decided based on the test results and epidemic prevention and control conditions in the city.
HAGOC also revealed at the meeting that more than 109,000 people, including 329 foreigners, have applied to become volunteers at the Games and Para Games. A total of 50,000 volunteers will be recruited.
English is the working language of the Games. HAGOC will also offer services in five to seven minor languages frequently used in Asia.