Liangzhu's cultural products available online
The creative and cultural products about Liangzhu civilization on display at the fair. [Photo/zj.zjol.com.cn]
The management committee of the Liangzhu City Archaeological Ruins area in Hangzhou, Zhejiang province announced the launch of a flagship store for cultural products about Liangzhu civilization on Tmall on July 10.
The move is expected to rejuvenate the 5,000-year-old Liangzhu culture, as well as help more people learn about the ancient culture via creative and cultural products, said a representative from the management committee.
A fair for creative and cultural products was also held on the same day by local cultural creativity companies involving Liangzhu, the West Lake, as well as the Grand Canal.
The Archaeological Ruins of Liangzhu City, which was unearthed in 1936, is considered an important representation of early urban civilization that had rice cultivation as its main economy.
The site is known for its abundance of ceremonial jade, which was used in complicated ritual system, as well as indicates a society that worshipped kings and deities. In 2019, it was inscribed onto the UNESCO World Heritage list.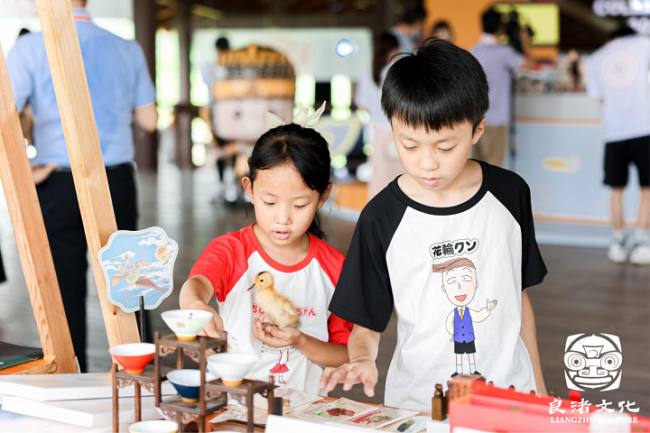 Children admire the creative and cultural products at the fair. [Photo/zj.zjol.com.cn]