Qiantang district's car-making industry accelerates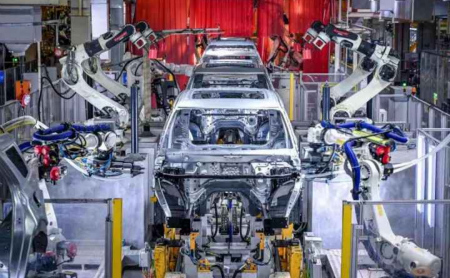 An assembly line in Qiantang district, Hangzhou, capital of East China's Zhejiang province. [Photo/zjol.com.cn]

In the first half of 2021, the Hangzhou branch of Chang'an Ford, a joint venture of Chang'an Automobile Co Ltd and Ford Motor Company, reported 11.5 billion yuan ($1.78 billion) in business revenue, a year-on-year growth of 234 percent.
Meanwhile, the Hangzhou factory of Guangzhou Automobile Group Motor, which is located just nine kilometers away from the Hangzhou branch of Chang'an Ford, revealed that four newly finished automobile production assembly lines have been put into operation.
From January to June, the vehicle sector in Qiantang district was able to overcome global industry challenges caused by the COVID-19 pandemic, with its vehicle and smart manufacturing industrial output reaching 33.3 billion yuan, a year-on-year growth of 2.2 percent.
Due to rising prices of raw materials and the global shortage of chips, the sales and production of vehicles in China saw a year-on-year decline. From the perspective of Fang Xi, president of the Zhejiang Vehicle Industry Association, it is impressive for Qiantang district to retain its robust growth.
The achievement couldn't have been made without the district's efforts to build a world-class smart manufacturing industrial cluster and an automobile industrial ecosystem, said an executive of the Qiantang Economic and Information Technology Bureau.
According to the official, Qiantang is now home to four finished automobile companies, including Chang'an Ford and Geely, as well as more than 70 auto part manufacturing companies. In March, Leapmotor established its new energy vehicles factory in Qiantang, which aims to manufacture 200,000 new energy vehicles annually.