Zhejiang Provincial Museum to display Yuan Dynasty painting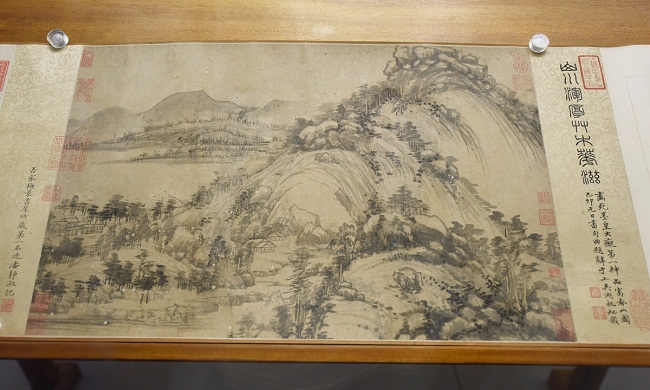 The Remaining Mountain, the shorter section of Dwelling in the Fuchun Mountains, has been kept in Zhejiang Provincial Museum since the 1950s and is rarely displayed to the public. [Photo/VCG]
Zhejiang Provincial Museum, which is located in the provincial capital of Hangzhou, is set to host a high-profile exhibition at its Wulin branch from July 23 to Oct 30 that showcases the province's achievements in culture, private economy, technology innovation, ecology, as well as social governance.
The most prominent exhibits to be displayed include the 1920 edition of the Chinese-translated The Communist Manifesto, the Yuan Dynasty (1271-1368) painting Dwelling in the Fuchun Mountains, and the copper seal made in 1949 for the newly established Zhejiang Provincial People's Government.
Created by Huang Gongwang (1269-1354), Dwelling in the Fuchun Mountains is considered one of China's greatest surviving ancient paintings. The masterpiece depicts the natural landscape of the Fuchun Mountains, which are located southwest of current day Hangzhou and along the northern bank of the Fuchun River.
The 6.91-meter-long painting was torn in two in the 17th century. The longer section, known as The Master Wuyong Scroll, was taken to Taiwan in 1949 and has since been kept in Taipei Palace Museum, while the shorter section, known as The Remaining Mountain, has been kept in the Zhejiang Provincial Museum on the Chinese mainland since the 1950s.
The painting that will be displayed is the shorter section of Dwelling in the Fuchun Mountains.
September 9, 2021

September 6, 2021

September 2, 2021
August 10, 2021