Hangzhou style dish featured on Guardian website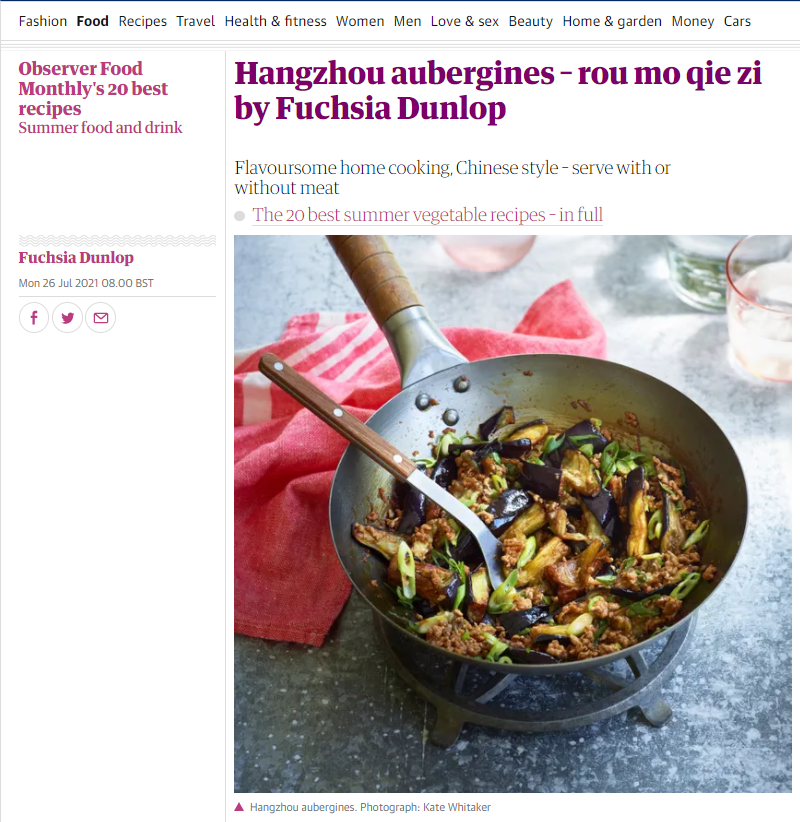 Hangzhou aubergines is featured on the Guardian website as one of the 20 best recipes of July. [Photo/theguardian.com]
Hangzhou aubergines, or rou mo qie zi (stir fried eggplant with pork mince), a Chinese homestyle dish, was recently featured in the food column of Guardian and listed as one of the 20 Best Summer Vegetable Recipes.
The writer Fuchsia Dunlop is a cook and food-writer specialising in Chinese cuisine. She sampled the dish at a local restaurant called Hangzhou Jiujia and wrote: "Tender aubergines are flavoured with a rich, fermented sauce and a scattering of minced pork. It's wonderful."
Aubergine is known as eggplant in China and brinjal in Southeast Asia.
Eggplant is considered a "cooling" food in traditional Chinese medicine and is recommended for summer. It is rich in calcium, potassium and vitamins, especially vitamin E. Traditional Chinese medicine says it is good for blood circulation and the digestive system.
Cooking it requires confident kitchen skills. The spongy, dry texture of the eggplant needs sufficient heat to tenderize and enough oil to turn it into a creamy sweet pulp.
Eggplant has been eaten in China for thousands of years, and it is roasted, fried, steamed, braised and pickled in a huge variety of recipes.
The recipe of the dish can be found in the article. The Golden Chopsticks Awards tweeted this article on Twitter.
August 5, 2021

August 2, 2021
June 22, 2021