Hangzhou campus listed among 25 most important postwar buildings

The Xiangshan Central Campus of China Academy of Art in Hangzhou, China. [Photo provided to chinadaily.com.cn]
The Xiangshan Central Campus of China Academy of Art in Hangzhou, Zhejiang province, was named one of the "25 Most Significant Works of Postwar Architecture" in a recent article of The New York Times.
The list was compiled by eight famous architects, journalists, and designers.
Among the listed buildings is the Xiangshan campus, which was designed by Pritzker Prize winner Wang Shu and his Amateur Architecture Studio.
The campus consists of more than 20 buildings spread over 131 acres on the outskirts of the city. Wang salvaged more than two million tiles from demolished traditional houses to cover the roofs of buildings in the campus.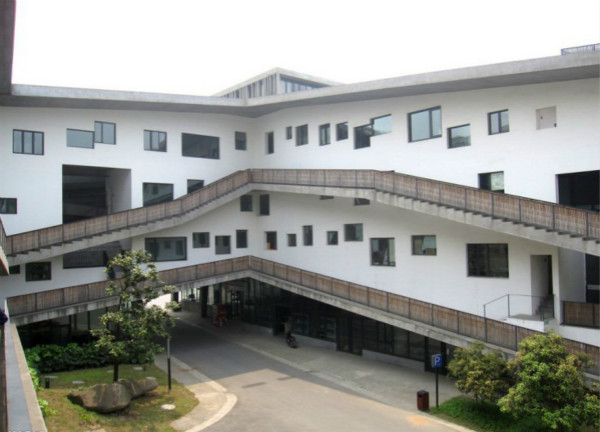 An interior view of Xiangshan Central Campus of China Academy of Art. [Photo provided to chinadaily.com.cn]
Wang, who founded Amateur Architecture Studio with his wife Lu Wenyu in 1997, has served as the head of the architecture department of the China Academy of Art in Hangzhou since 2000.
He is also a visiting lecturer at universities around the world, including Harvard University, the University of Texas and the University of Pennsylvania.
"In a country with the largest number of ongoing construction projects in the world, there are few creative projects with Chinese characteristics," Wang said in 2017, adding that Chinese-style architecture has become lost in the frenzy of real estate development.
"To rejuvenate China's own architecture, you will need to come closer to traditional craftsmanship and materials."
In 2019, the campus was described as "a poetic rallying cry for craft in the face of China's rapid urbanization" by The Guardian.
August 26, 2021

August 24, 2021

August 23, 2021
August 10, 2021