Hangzhou village welcomes first Japanese restaurant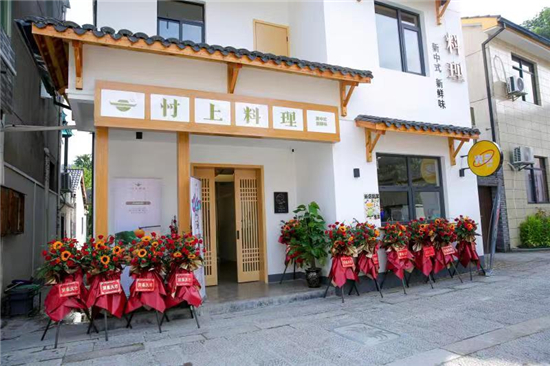 Murakami Cuisine opens in Bainiu village, Lin'an district in Hangzhou. [Photo/hangzhou.com.cn]
Villagers in Bainiu village, Lin'an district in Hangzhou, East China's Zhejiang province, can now sample Japanese cuisine without having to travel to the urban areas as the village recently welcomed its first Japanese restaurant, local media reported on Aug 30.
"I've never tried Japanese cuisine before, so I went to the restaurant with my granddaughter as soon as it opened," said Hu, a villager.
Lyu Bibo, who was born in 1982, is the owner of Murakami Cuisine. He has worked as a chef at various famous hotels in Shanghai and Hangzhou for 12 years.
"I have dreamt of living in rural village since I was very young. After seeing the idyllic scenery in Bainiu village, I came up with the idea to open a Japanese restaurant here," said Lyu.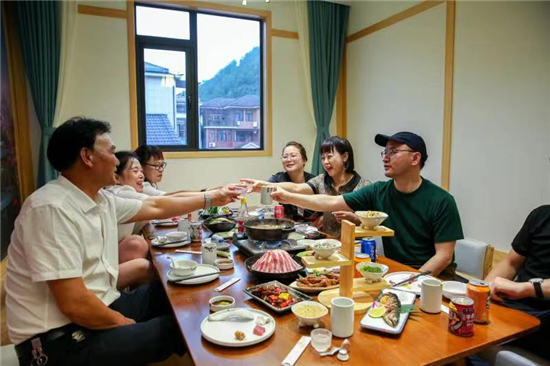 Villagers in Bainiu village, Hangzhou, sample Japanese cuisine at Murakami Cuisine, the first Japanese cuisine restaurant in the village. [Photo/hangzhou.com.cn]
"Unlike traditional Japanese cuisine, the cuisine at my restaurant includes some local food ingredients such as local walnut kernels, groupers and bamboo shoots," he noted.
In his spare time, Lyu likes to share his cooking skills via livestreaming.
Bainiu village will introduce more new commerce modes to attract more young people, said an official of the village.
August 31, 2021

August 26, 2021

August 24, 2021
August 10, 2021