The forgotten great wonder of Hangzhou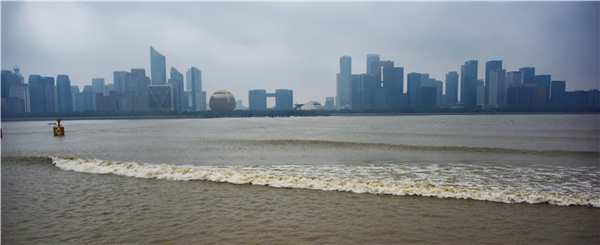 A spectacular tidal surge gives a river in Zhejiang province a day or two in the limelight once a year, but work over the centuries to tame the river remains unknown to many. [Photo provided to China Daily]
Whenever talk turns to the city of Hangzhou and its splendid geographical attributes, you can be almost certain that topping the list will be West Lake with its beauty, tranquility and important place in literary and artistic history. Somewhere on the list, too, will be the scenic Xixi National Wetland Park with its sprawling ponds, lakes and swamps. Then glance a little further down the list beyond those water features, and another will roar into view: the mighty Qiantang River.
What the Qiantang lacks in idyllic traits compared with the other two landmarks is more than compensated for by the majesty of its power-a force that has put the brightest of Hangzhou minds to the test over the centuries as they have tried to tame it.
For all that, the Qiantang knows how to put on a show for tourists and others, too.
The river, stretching over more than 500 kilometers and flowing into the East China Sea, runs from Anhui province to Hangzhou Bay, along the way delivering a view of one of the most spectacular tidal phenomena anywhere in the world.
Every year around the Mid-Autumn Festival, when the tide is at its maximum force, visitors gather in the town of Yanguan, about 60 km northeast of Hangzhou, to take a glimpse of the power of nature.
The tide can climb to more than three meters from the rising water surface at a speed of 5 to 7 meters a second. It means an eight-meter dispersion from the normal water level when there's no tide.
So written history has it that on and off, over about a millennium, beginning during the Tang Dynasty (618-907), a wall stretching 300 km was built along the Qiantang River's estuary as a protection against the tidal threat.