The forgotten great wonder of Hangzhou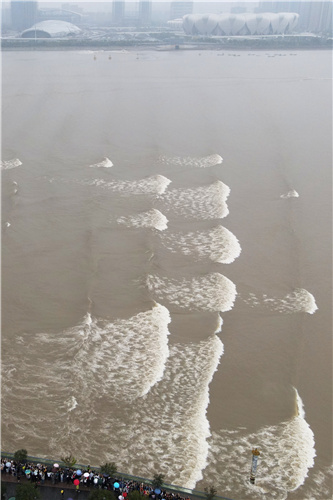 Every year around the Mid-Autumn Festival, when the Qiantang River's tidal bore is at its maximum force, visitors gather to take a glimpse of the power of nature. [Photo provided to China Daily]
This construction project was as significant as the Great Wall and the Grand Canal, says Lang Xufeng, director of the cultural heritage preservation center that is part of the municipal bureau of gardening and cultural relics of Hangzhou.
At one point in history the Great Wall was renowned for its role as a military defense and as the boundary line between farming and nomadic civilizations. The Grand Canal, running 1,800 km from northern to southern China, served as an important channel for transporting grains and reinforced the empire's control of the south. From Hangzhou it took in dynastic capital cities such as Beijing, Kaifeng and Luoyang in Henan province.
The seawall, mainly in southeastern coastal areas, has not been given as much attention as the Great Wall or the Grand Canal, nor the acclaim that it and its builders no doubt deserve.
Over 2,000 years the seawall has been built and destroyed, destroyed and rebuilt to prevent the tide from swallowing the fertile lands of Jiangsu and Zhejiang provinces and part of what is now Shanghai, a traditional economic center of the country.
The area, covering the lower reaches of the Yangtze River and the Taihu Lake regions, accounted for the major part of the agricultural feudal empire's tax revenue, especially between the Song (960-1279) and the Qing (1644-1911) dynasties, Lang says.
The section of the ancient seawall that remains along either side of the river today was built mainly of stone, wood or dirt. The tide hitting the northern bank of the Qiantang was particularly threatening, so extra attention was given to ensuring that the seawall on this side of the river would hold firm.
The seawall provided Hangzhou with a safe and stable natural environment as it kept salty sea water from flowing backward and hardening the soil.
September 10, 2021

September 9, 2021

September 6, 2021
August 10, 2021