The forgotten great wonder of Hangzhou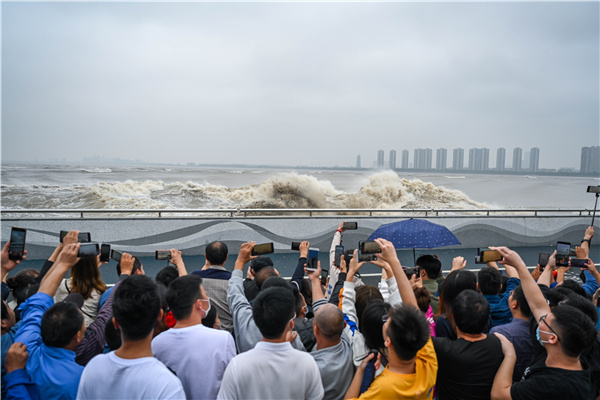 Every year around the Mid-Autumn Festival, when the Qiantang River's tidal bore is at its maximum force, visitors gather to take a glimpse of the power of nature. [Photo provided to China Daily]
In recent years ancient relics of the wall have been found mainly in urban districts of the city such as Shangcheng, Jianggan, Yuhang and Xiaoshan, some dating back to the time of the Five Dynasties and Ten Kingdoms (907-960).
Unfortunately, many relics lie buried as a result of reclamation and changes to the river channel and city construction, which in turn has resulted in public indifference to the seawall's existence and importance and even outright ignorance.
Some parts of the wall exposed above ground are said to have been handled incorrectly, putting its continued existence in danger. For example, a part of seawall located in what was formerly known as Rongxing village of Xiaoshan district, 20 km from downtown Hangzhou, was reported to have been covered by building refuse, a local media report in 2019 said.
When a cultural and sports center was being built in Jianggan district, 12 km from the city center, in 2013 a 300-meter seawall built during the reign of the Qing Dynasty emperor Qianlong (1736-96) was discovered.
It was built by stones, all of similar dimensions, about 1.5 meters long, 40 cm wide and 30.5 cm tall, joined by a kind of glue mixed from sticky rice juice and cypress vine.
The stones were piled up to 17 layers high, with those at the top bound by embedded iron bars.
The lower layers jut ever further into the river, with each higher layer receding toward the shoreline, making the seawall, when viewed from the side, resemble fish scales-giving the style of seawall construction the name yulin, meaning "fish scales" in Chinese.
In front of the stone wall was a stack of pinewood piles penetrating into the riverbed aimed at protecting the stone and withstanding the force of the tide. The piles remained almost intact in water for more than 200 years, oil protecting them from decay.
The site has been turned into the country's first seawall museum, opened a year ago, with a 30-meter section of the seawall on display and the evolution of seawall building techniques explained.
Yao Qian, director of the cultural heritage preservation center of Jianggan district, who also serves as a museum guide, says the road connecting Hangzhou and Shanghai built in the 1930s exactly covered the seawall because there was no need to lay the foundation again, which had a spin-off benefit of preserving ancient relics.
Three emperors of the early Qing Dynasty, Kangxi (1654-1722), Yongzheng (1678-1735) and Qianlong (1711-99) had attached great importance to maintaining the seawall.
Emperor Qianlong got a good view of the seawall on the Qiantang River on six trips he made to the lower reaches of the Yangtze River. On four of those trips he lodged in Haining, about 60 km east of Hangzhou, and closely inspected seawall construction there.
September 10, 2021

September 9, 2021

September 6, 2021
August 10, 2021