The forgotten great wonder of Hangzhou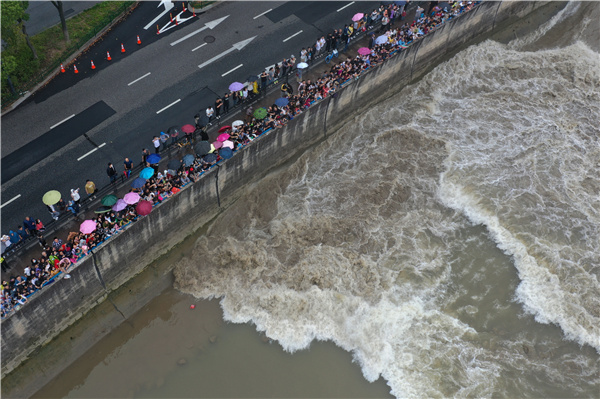 Every year around the Mid-Autumn Festival, when the Qiantang River's tidal bore is at its maximum force, visitors gather to take a glimpse of the power of nature. [Photo provided to China Daily]
Governments and academics in Hangzhou and neighboring cities such as Haining are expecting the seawall, together with natural features and cultural legacies related to the Qiantang River, to be out on the UNESCO world heritage one day and are promoting research, archaeological discovery and preservation of ancient relics.
Hangzhou already has the West Lake Cultural Landscape, the Grand Canal and the archaeological ruins of Liangzhu city inscribed on the World Heritage list.
Having a long-term vision helps raise people's awareness that the city of Hangzhou owes its development to the Qiantang River, Lang says.
"In all, our ultimate goal is to protect the ancient seawall."
Influential Zhejiang businessmen including Jack Ma, the founder of Alibaba, Zong Qinghou, founder of the beverage maker Hangzhou Wahaha Group, and Lu Guanqiu, the late founder of the automotive parts company Wanxiang Group, have often been referred to as "tide players of the time".
The description was originally used to hail the bravery and ambition of those who would like to tame, or at least keep in check, the Qiantang River.
In Yao's eyes, seawall construction is also a reflection of such a spirit, and the willingness to be a "tide player of the time" is deeply rooted in the city and its citizens, she says.
September 10, 2021

September 9, 2021

September 6, 2021
August 10, 2021