Hangzhou Asian Games getting ready to race out of the blocks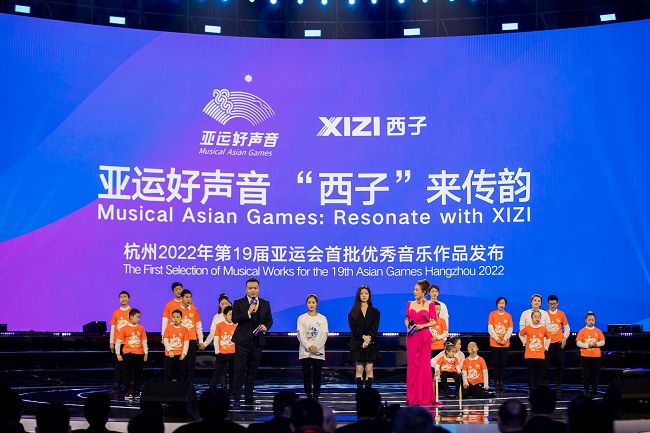 The first selection of musical works for the 19th Asian Games Hangzhou 2022 is revealed on March 12. CHINA DAILY
Sports event's venues prepare for 2022 opening
Sept 10 marks the one-year countdown to the opening of the 19th Asian Games Hangzhou 2022, which will be held from Sept 10-25, 2022 in Hangzhou, capital of East China's Zhejiang province. China Daily is teaming up with the organizing committee of the Games to spotlight the preparations for and facts about the Hangzhou Asian Games.
The Hangzhou Asian Games Organising Committee, adhering to the concept of "Green, Smart, Economical, Ethical", is steadily advancing preparations for the 19th Asian Games Hangzhou 2022, which will be held in one year's time in Hangzhou, capital of East China's Zhejiang province.
The Hangzhou Asian Games has confirmed 40 sports, including 31 Olympic and nine non-Olympic sports, and the Hangzhou Asian Para Games will have 22 sports. The Games have even added Esports and Breaking as disciplines.
On the basis of 45 participating countries and regions in previous editions, countries and regions from Oceania will compete for the first time at the Hangzhou Asian Games, making the number of participating countries and regions 63. More than 10,000 athletes are expected to compete in the Games.
According to the schedule, 10 test events for the Hangzhou Asian Games and five test matches for the Hangzhou Asian Para Games will be held in the second half of this year, covering different sports such as track and field, basketball, shooting and table tennis.
In March this year, the first-phase of sport entry for the Hangzhou Asian Games concluded with 45 National Olympic Committees across Asia submitting entries to take part in 61 disciplines. Venue construction in Hangzhou and in Zhejiang's co-host cities of Ningbo, Wenzhou, Huzhou, Shaoxing, Jinhua is in full swing. There are 55 competition venues, 31 independent training venues, five Asian Games Village and athletes sub-villages for the Hangzhou Asian Games in the province.
At present, construction on 42 competition venues has been completed and those venues are under functionality testing. Among them, Hangzhou Dianzi University Gymnasium has passed all tests with 25 others having completed pre-acceptance.
Construction on 15 competition venues is expected to be completed by the end of October, including two independent venues for the Hangzhou Asian Para Games.
The 31 training venues are scheduled to be completed by May next year. Currently, their construction is progressing smoothly. The 16 training venues at provincial colleges and universities have been approved for feasibility studies.
The goal is to complete the civil construction and pass the acceptance tests of all competition venues by the end of this year. By then the Asian Games Village is also expected to be completed and ready to prepare for trial operation in March 2022.
Among the 55 venues, only 12 are newly built, while 43 are renovated venues. And 42 of them have confirmed their post-Games operations, undertaking various activities including sport, culture, business, exhibition and entertainment, leaving a legacy of the Games for the city and its people. The Hangzhou Olympic Sports Centre Stadium will serve as a city landmark, as well as a venue for international events and mass activities.
Ten well-known enterprises, including Geely, China Mobile, China Telecom, the Industrial and Commercial Bank of China, Zhejiang Loong Airlines, Alibaba, Alipay, 361°, China Pacific Insurance and DAS Security, have become official partners of the Hangzhou Asian Games.
To date, the Games' organizing committee has signed up a total of 64 sponsors and suppliers, 53 licensed manufacturers in 12 categories, 36 retail enterprises, and launched 756 licensed products. Damai, an online ticketing platform, as the main ticketing operator, will provide professional ticketing services to the Hangzhou Asian Games and Asian Para Games for spectators. It will carry out on-site investigations at 55 competition venues, while taking epidemic prevention and control needs into account. It will further develop its ticketing system to provide more convenient ways for the public to purchase tickets.
The committee has not only been promoting the Hangzhou Asian Games, but it has organized a series of related public welfare activities.
It launched the 2022 Asian Games Aspirations program last year to collect the dreams and aspirations of people across the world. According to a committee spokesperson, the program has garnered more than 200,000 submissions thus far.
As a subproject of the 2022 Asian Games Aspirations program, the Asian Games Football Dream Project began on April 19,2018.
It has since recruited 2,000 schools throughout Asia, and 500 of them have received support from the Hangzhou Asian Games.
The organizing committee teamed up with the Alibaba Foundation to create an online public welfare platform on Aug 8, 2020. More than 20 million people have participated in public welfare activities through the platform so far.
The public welfare activities of the Hangzhou Asian Games have reached 30 provinces in China, as well as countries such as Japan and Malaysia, with more than 400 million online and offline participants.
The Hangzhou Asian Games is also showcasing Hangzhou's digital reform.
Focusing on the concept of Smart Asian Games, the organizing committee has applied cutting-edge technologies in all aspects of the Games, promoting the development of the digital economy.
The organizing committee is creating intelligent application systems that will cover intelligent operation and command, intelligent security, intelligent transportation and other areas.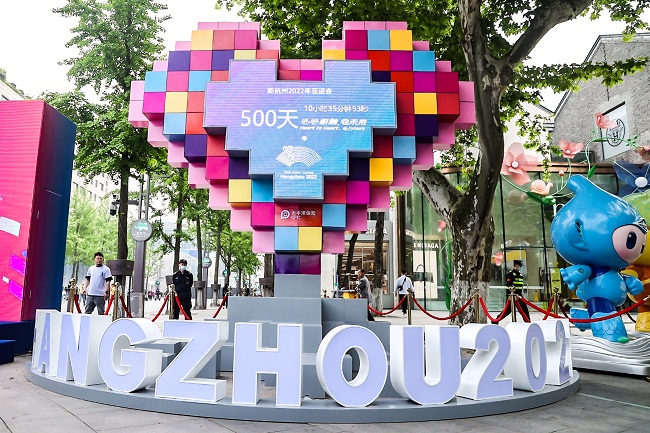 The Hangzhou Asian Games' countdown sign on Hubin Pedestrian Street in Shangcheng district in Hangzhou. CHINA DAILY
To top it off, "SMART HANGZHOU 2022", the first one-stop smart mini-program in Asian Games' history, was released on Sept 22, 2020.
The mini-program offers information covering six categories: tickets, food, accommodation, transportation, famous scenic spots and shopping in Hangzhou and other co-host cities.
The mini-program also includes an online torchbearer feature-"Running to 2022 and be the Asian Games' torchbearer". Users will have the opportunity to become an actual torchbearer.
As of Aug 31, the platform had more than 10 million registered users, with an average of 700,000 visitors per day.
The organizing committee announced the start of global volunteer recruitment for the Games on May 22.
The committee plans to recruit about 52,000 volunteers from around the world to serve in Zhejiang's Hangzhou, Ningbo, Wenzhou, Jinhua, Huzhou and Shaoxing, providing 13 kinds of voluntary services in protocol and language needs, spectator requirements, media operation and logistic support and transportation.
The organizing committee has released its volunteer logo, slogan and promotional video and appointed four volunteer image ambassadors in a bid to attract more volunteers for the Games.
Applications for volunteers will be open until Oct 31.
Applicants can sign up via the Games' official website, WeChat account or the "SMART HANGZHOU 2022", a mini-program on Alipay.
As of the end of August, 155,000 applicants had registered online, including more than 700 volunteers from Hong Kong and Macao special administrative regions and Taiwan, as well as foreign countries and regions, and over 8,100 volunteers who can handle interpretation work in Japanese, Korean, Russian, Arabic and Thai.
From September to October, volunteer clothing and a volunteer song and music video will be revealed.
The organizing committee launched a series of promotional events in 10 Chinese cities, with three targeted titles: "Asian Games Fun Run", "Musical Asian Games" and "Asian Games-themed Presentation".
The events aim to spread the culture of the Asian Games and promote the charm of Hangzhou 2022 in an all-around way, while also echoing the distinctive culture of each city.
The first of the promotional events was held in Shanghai on May 31. Events have also been held in Xi'an, Tianjin and Wuhan.
The committee launched the International Etiquette Contest for the 19th Asian Games Hangzhou 2022 on Sept 27, 2020, which is expected to promote the spirit of volunteerism, improve the level of manners and etiquette and create a healthy and amiable host image.
Since its official launch last September, the contest has attracted more than 20,000 competitors from China and 35 foreign countries.
The competition, which concluded on Aug 28, includes two major categories-manners and etiquette and Games' services and etiquette.
The committee selected 10 winners from each category through rounds of auditions, preliminaries, semi-finals and a final.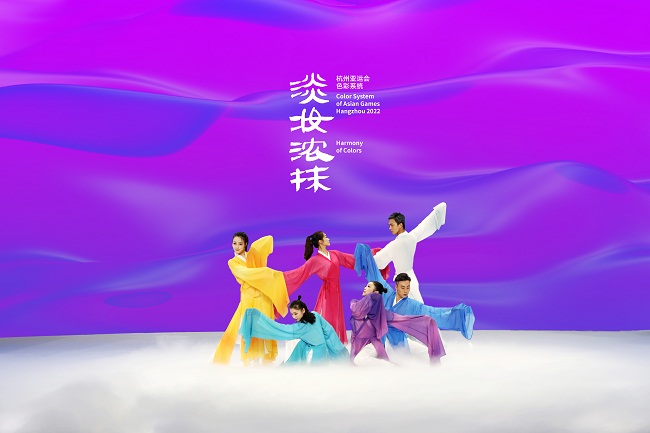 A performance is staged during the launch ceremony to reveal the core graphics and color system of the 19th Asian Games Hangzhou 2022. CHINA DAILY
The organizing committee has been carrying out a publicity program in schools, communities, organizations and societies since the end of May 2020, in a bid to arouse public enthusiasm for participating in and preparing for the Games.
Up to now, more than 400 related activities have been held, featuring culture and art, sports, creative fairs, exhibitions, curriculum training and competitions. Participants have included government officials, teachers and students, community residents, private entrepreneurs, covering more than 5 million people.
On the International Olympic Day on June 23, 2020, the committee initiated a campaign to solicit musical works for the sporting event from around the world.
The call, set to last two years, is open to the general public and professional musicians.
The first selection of musical works was revealed on March 12, including 30 pieces of music standing out from over 2,000 entries-10 complete songs, 10 sets of lyrics and 10 musical tunes.
A slew of music producers and cultural figures from around the world were invited by the organizing committee to contribute their inspiration and wisdom to the Games' musical works by participating in a slew of tours in Hangzhou and in musical seminars in Beijing.