Hangzhou upgrades typhoon response to second highest level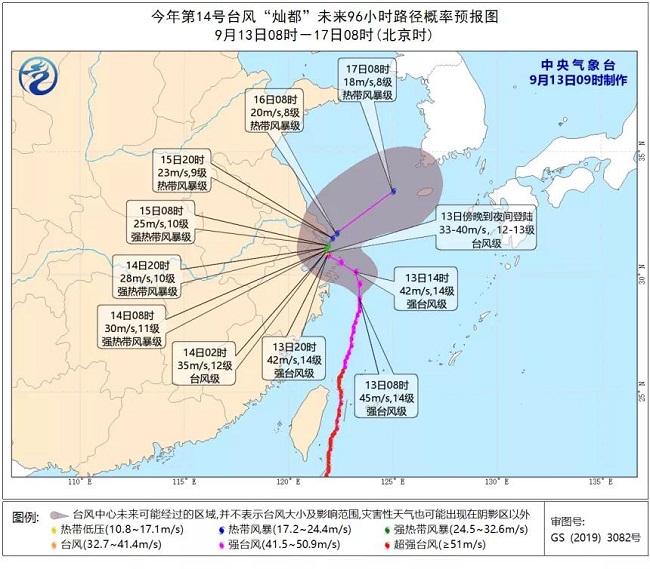 The path of typhoon Chanthu from the National Meteorological Center from 8 am on Sept 13 to 8 am on Sept 17. [Photo/WeChat account: hzfbwx]
Hangzhou, capital city of East China's Zhejiang province, upgraded its emergency response to the second highest level on Sept 12, local media reported.
The center of the 14th typhoon of the year Chanthu was about 185 kilometers southeast of Xiangshan county in Ningbo, Zhejiang at 5 am on Sept 13, packing winds of around 48 meters per second, according to the National Meteorological Center.
Currently, Chanthu is moving northward at a speed of 20 km/h with weakening strength. It is expected to move northeast after Sept 16.
The observatory said that the typhoon is expected to make landfall in the province's coastal areas between Zhoushan and Ningbo, or pass through Zhoushan Islands Monday morning. The storm is forecast to bring heavy rain and strong gales to northern and eastern Hangzhou from Monday to Wednesday.
The airport in the city will cancel all outbound flights from 11 am on Sept 13.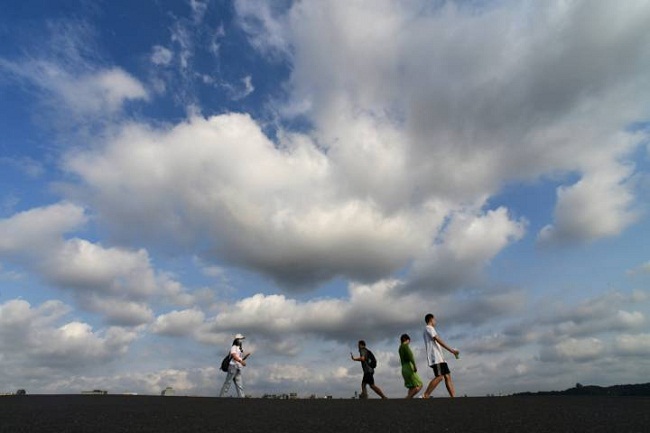 People walk under the blue sky in Hangzhou. [Photo/zj.zjol.com.cn]
Here are some do's and don'ts before and after a typhoon.
Before a typhoon:
Keep an eye on the latest pre-warnings and predictions for the typhoon.
Halt mass gatherings, aloft work, and operation at sea.
Vessels operating at sea should return to port as soon as possible.
Consolidate or dismantle unauthorized structures.
Do not go out and people in low-lying areas or dilapidated buildings should move to a safer place.
Close doors and windows and move potted plants and other outdoor articles into the house.
Check electric circuits and gas piping and reserve some emergency food if necessary.
Keep an eye on possible torrential floods and other geological disasters.
During a typhoon:
Do not shelter from the rain under a tree, an iron tower, or an advertising board.
Do not swim or boat on rivers.
Turn off electrical equipment and cut off unnecessary power supply.
Park the car in an underground parking lot and make sure the parking lot's drainage system is unobstructed.
After a typhoon:
Clean up to prevent the spread of hazardous substances and germs.
Discharge water, harvest, and plant crops to reduce agricultural losses.
September 14, 2021

September 10, 2021

September 10, 2021
August 10, 2021