Global e-commerce talents meet in Hangzhou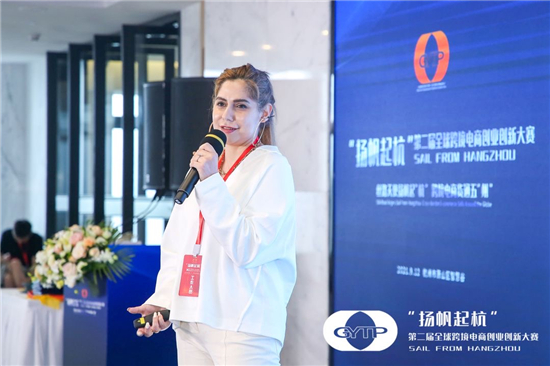 An Iranian livestreaming anchor shares her sales experience in Hangzhou on Sept 12. [Photo/hangzhou.com.cn]
The second "Sail from Hangzhou" Global Cross-border E-commerce Entrepreneurship and Innovation Contest hosted its finals in Hangzhou, Zhejiang province, on Sept 12.
The finals attracted over 200 contestants who were selected from 1,600 participants from 120 countries and regions. A summit forum on e-commerce livestreaming and a livestreaming show were also held.
An Iranian livestreaming anchor surnamed Diva shared her story of helping Chinese sellers promote their products overseas. She said she hopes her sharing can inspire more Hangzhou brands to seek win-win cooperation with foreign livestreamers.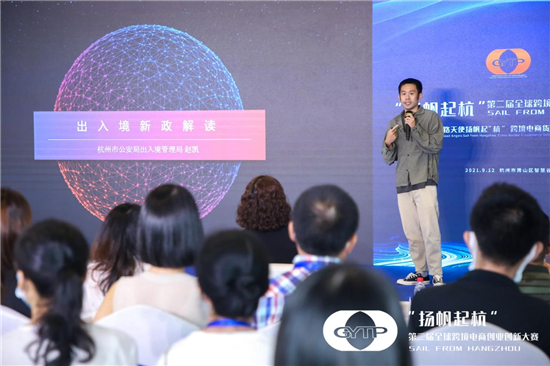 The latest preferential policies for foreign talents and overseas returnees are introduced in Hangzhou on Sept 12. [Photo/hangzhou.com.cn]
During the activities, the exit and entry bureau of Hangzhou explained the latest preferential policies related to the employment of foreigners.
According to the bureau, cross-border e-commerce has become a new contributor to foreign trade growth and a popular choice of promotion for startup companies. The bureau will continue to formulate and improve policies for foreign talents and their employers.
Local authorities said the "Sail from Hangzhou" contest has become a bridge between local companies and global young talents.
September 14, 2021

September 10, 2021

September 10, 2021
August 10, 2021