Uniforms for Asian Games Hangzhou 2022 unveiled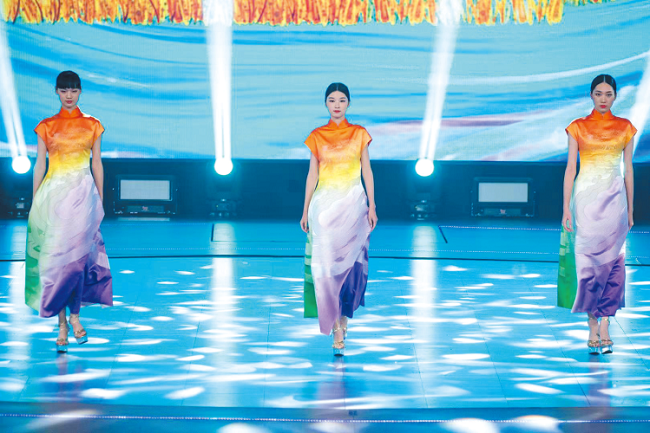 Models parade the uniform for medal bearers. [Photo/hangzhou.com.cn]
The Asian Games Hangzhou 2022 Organizing Committee on Sept 10 released the medal bearer and flag raiser uniforms as well as sports uniforms to welcome the one-year countdown to the opening of the Games.
The uniforms for medal bearers and flag raisers were designed by Wu Haiyan, a professor at the China Academy of Art, and highlights Hangzhou elements and Chinese culture.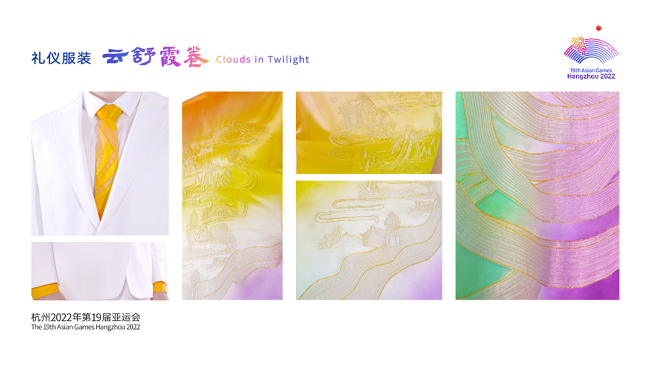 A close-up of the uniform for medal bearers. [Photo/hangzhou.com.cn]
For example, the medal bearer uniform is made from silk, one of Hangzhou's specialties, and features elements of the qipao, a traditional one-piece, body-hugging Chinese dress, and a skirt with a long slit at the side.
Views of the West Lake scenic area and its landmarks such as the Leifeng Pagoda are also seen on the uniform. The wave-shaped patterns on the uniform represent the city's traffic network, racing tracks and the Qiantang River, the mother river of Zhejiang.
Sports uniform for torch bearers. [Photo/hangzhou.com.cn]
The sports uniforms are meant to be worn by torch bearers, escort runners, volunteers, technical officials, security personnel, venue operation team members. They also include the official uniform for technical officials and venue operation staff.