Places in Hangzhou to spend Mid-Autumn Festival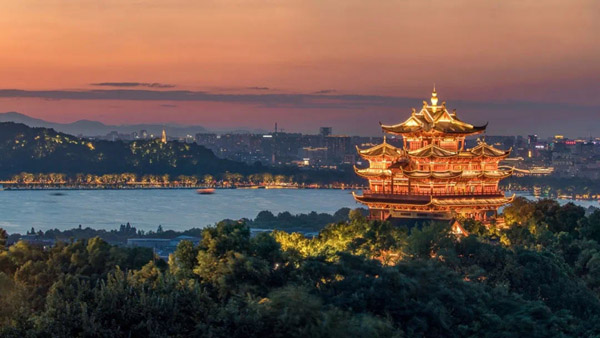 A night view of Chenghuang Pavilion in Hangzhou, Zhejiang province. [Photo from the West Lake Scenic Area]
As China's traditional Mid-Autumn Festival approaches, various moon-admiring activities will take place in Hangzhou, East China's Zhejiang province during the upcoming three-day holiday.
There are three highly-recommended places in the city for residents and tourists to celebrate the festival, namely the Broken Bridge, Fengyu Pavilion on Su Causeway, and Yuebo Pavilion, which is near the scenic site Moon over the Peaceful Lake in Autumn.
The three waterborne sites allow people to better appreciate the beauty of the moon with a backdrop of the West Lake and mountains. From Sept 19 to 21, performances featuring traditional Chinese music will be staged in the three places as well.
Chenghuang Pavilion, or City God Pavilion, which is located in Wushan Square, is another site to admire the night view, enjoy traditional Chinese music, and taste customary Mid-Autumn Festival snacks.
For those who want to enjoy the West Lake on a full-moon night, embarking on a boat trip is a popular choice. On the nights of Sept 19 to 21, 33 boats with full moon-shaped lanterns will be adrift on the lake.
October 11, 2021

October 9, 2021
August 10, 2021