Zheng sets sights on Asian Games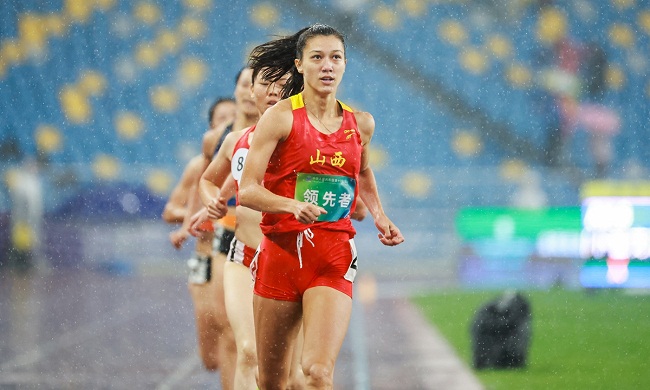 Zheng Ninali competes in the women's heptathlon at the National Games on Saturday in Xi'an, Shaanxi Province. Photo: VCG
Naturalized Chinese athlete Zheng Ninali dominated the women's heptathlon event at the ongoing China's 14th National Games on Saturday.
Canada-born Zheng, 22, won five of seven disciplines, and was satisfied with her result of 6,026 points.
This summer, Zheng made up for her grandmother Zheng Fengrong's regret at missing out on the 1956 Olympic Games by finishing 10th at the Tokyo Olympics with 6,318 points. Zheng Fengrong, now 84, is the first female Chinese athlete to break a world record, and the first one to achieve such a feat in athletics for China.
At the awarding ceremony on Saturday, Zheng and coach Duan Qiyan, who is also her grandfather, were presented with a gold medal each.
After Zheng Ninali's mother got divorced in 2000, Zheng Fengrong and Duan began to help take care of Zheng Ninali and her elder brother Zheng Enlai.
Duan became Zheng Ninali's coach when she took up athletics at a young age in Canada. In 2017, Zheng took part in China's 13th National Games in Tianjin as an overseas athlete of Chinese heritage.
After taking a silver medal in the 2018 Commonwealth Games for Canada, Zheng Ninali told her grandmother that she wanted to represent China at the Tokyo Olympics, fulfilling her family's Olympic dream.
"At that moment, I hugged her and burst into tears," Zheng Fengrong said.
To fulfill her dream, Zheng Ninali trained by herself in the US as a college student amid the COVID-19 pandemic in 2020.
To prepare for both the Olympics and ­National Games, Zheng Ninali dropped out of school and left for China in December 2020.
"The country supported me a lot," she said. "When you are abroad, you can't imagine that the government gives you such good training environments. I have progressed a lot this season."
After a busy season, Zheng said that she would have a short break before preparing for the 2022 Asian Games in Hangzhou, east China's Zhejiang Province.
"I will try to win the women's heptathlon at the Asian Games," Zheng said with confidence.