President says nation will enhance basic research and global cooperation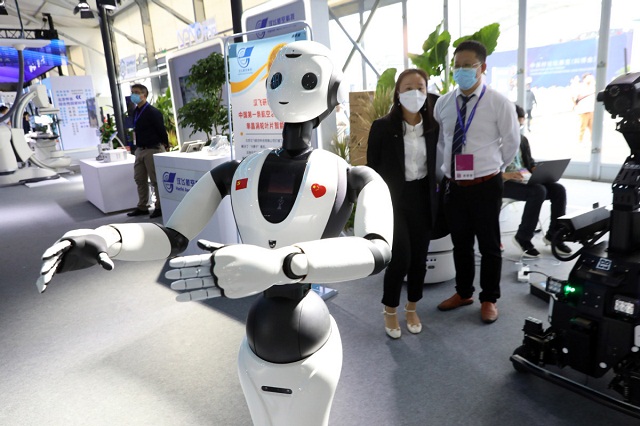 A robot dances at the Zhongguancun Forum exhibition in Beijing, on Sept 25, 2021. [Photo by Zhu Xingxin/chinadaily.com.cn]
President Xi Jinping's speech at the opening ceremony of the 2021 Zhongguancun Forum on Friday night, which was delivered via video link, has attracted extensive attention and sparked heated discussion on opportunities and challenges in science and technology development around the world.
Xi said China will strengthen international exchanges on science and technology with a more open attitude, proactively take part in the global innovation network and jointly move forward with fundamental research.
Xu Qiang, head of the Beijing Science and Technology Commission, who listened to the speech at the opening ceremony, said he was encouraged to learn that Beijing will strengthen science and technology innovation and actively integrate with the global innovation network.
Ren Changrui, executive vice-president of the Beijing Academy of Blockchain and Edge Computing, said he felt inspired after hearing Xi's speech.
Ren said blockchain is a technology that promotes trust and connection, and the development of blockchain is inseparable from international exchanges and cooperation.
Xi also stressed the need for a joint response to current challenges and the joint promotion of the noble cause of peace and development for humanity.
Tong Zhaohui, vice-president of Beijing Chaoyang Hospital, said he will enhance scientific and technology innovation and apply the results to medical work.
"We will increase cooperation with the world and actively conduct research on COVID-19 vaccines and epidemic prevention to ease the problem," he said.
Zhongguancun Forum, a key national platform for opening-up and innovation, was launched in 2007. It is held in Beijing's Zhongguancun area in Haidian district, which is home to many top universities, research institutions and high-tech companies.
In his speech, Xi also pledged to support Zhongguancun, the nation's first demonstration zone for independent innovation, in conducting a new round of pilot reform and expediting steps to develop itself into a leading global tech park.
Yuan Jinhui, founder and CEO of Beijing OneFlow Technology, said he believed more unicorn companies-startups valued at over $1 billion-will be created in Zhongguancun.
"Xi has sent a clear message to technology-driven startups like us," said Yuan, who founded his company in Haidian district in 2017 with the aim of developing an intelligent learning platform.
"As a professional in science and technology, we need to focus on the future and create quality products through technology and innovation, to solve problems and seek the future for humanity."
Yuan said Zhongguancun has an environment that encourages enterprises to do fundamental research.
"Like a fertile soil, the Zhongguancun area ensures that innovative companies like us that need long-term underlying growth in software technology can grow steadily," he said.