Hangzhou receives nearly 18m tourists for National Day holiday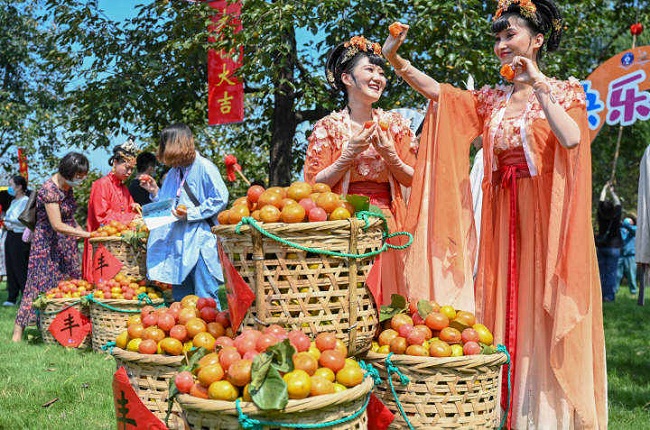 The Persimmon Festival at Xixi National Wetland Park attracts numerous tourists during the National Day holiday. [Photo/zj.zjol.com.cn]
Hangzhou, a popular tourist destination in East China's Zhejiang province, received 17.99 million tourists over the recent seven-day National Day holiday, statistics from the Hangzhou culture, radio, TV, and tourism bureau showed.
The figure is equivalent to 94.89 percent of that in 2019 during the same period.
Due to the COVID-19 prevention and control measures implemented around the country, most people went on short trips. As a result, 9.99 million visitors in Hangzhou's scenic spots were local residents.
Xixi Wetland, West Lake, Song Cheng Themed Park, Hangzhou Changqiao Polar Ocean Park, Yan Ziling Angling Terrace, and Xianghu Lake, which is considered to be the "sister" of West Lake, were the most popular tourist destinations.
Rural tourism also performed well during the holiday and all of the scenic villages in Hangzhou received more than 3.17 million tourists, a year-on-year increase of 23 percent.
Among them, both the tourist number and tourism revenue in Longwucha town in Xihu district increased 10 percent year-on-year, while ancient Yanzhou town in the county-level city of Jiande welcomed 354,000 visitors.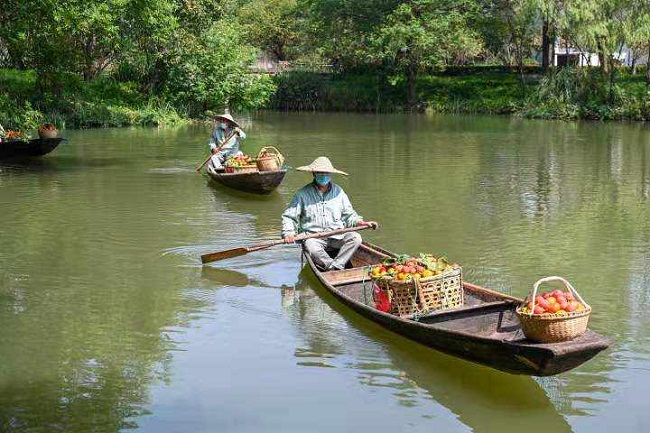 Boatmen transport the freshly-picked persimmons. [Photo/zj.zjol.com.cn]