China, Greece artists exchange ideas on theatre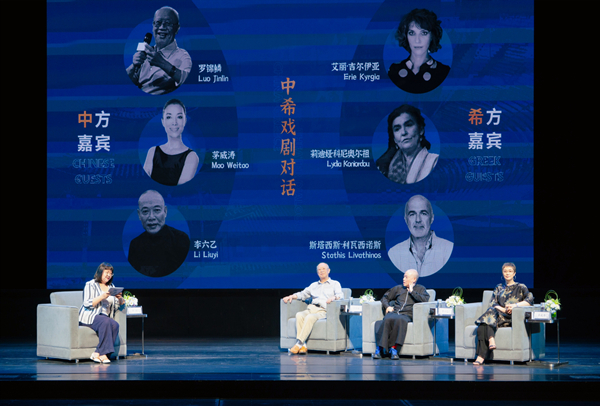 Theatre artists from China and Greece attend a teleconference themed "To Share and Inspire" in front of some 120 audiences at the Yue Theatre in Hangzhou on Sept 30. [Photo provided to chinadaily.com.cn]
A number of heavyweight theatre artists from China and Greece carried out a teleconference themed "To Share and Inspire" that was shown to some 120 audiences at the Yue Theatre in Hangzhou, capital of East China's Zhejiang province, on Sept 30.
Hosted by the Information Office of the Zhejiang Provincial People's Government, the Zhejiang Provincial Department of Culture and Tourism, the National Theatre of Greece, and the Chinese Embassy in Greece, the event was one of the numerous culture exchange activities that are part of the 2021 China-Greece Culture and Tourism Year.
The theatre experts commenced their panel discussion following the broadcast of The Butterfly Lovers' Violin Concerto, one of the most famous Chinese works of orchestral music.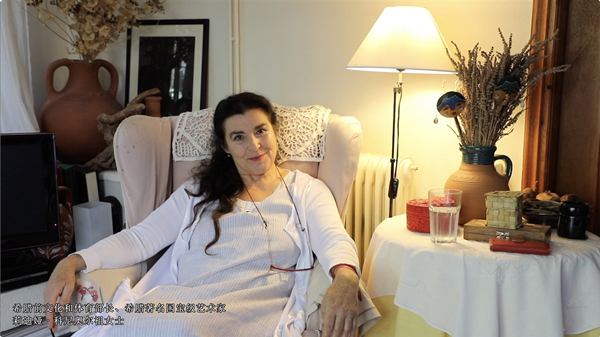 Lydia Koniordou joins in the panel discussion through a video call. [Photo provided to chinadaily.com.cn]
Speaking about the integration of theatrical arts from China and the West, the former vice director of the Central Academy of Drama Luo Jinlin said, "Integration is not simply sticking with each other. It resembles the mixture of coffee and milk, which creates a tastier flavor. It is only through this way that people would be impressed by how oriental and Western aesthetics are beautifully intertwined in drama."

In a video call from Greece, famous Greek actress and the former Greek Minister of Culture and Sports Lydia Koniordou shared her previous teaching experience at the Shanghai Theatre Academy as well as her views on the two countries' similarities and differences in theatrical performance and education. Koniordou has been to China thrice.
A Yueju Opera titled Oedipus the King, adapted from the original ancient Greek tragedy, was screened during the dialogue. Yueju Opera, originating in Shaoxing, Zhejiang province in 1906, has been popular in the province for more than a century.
Mao Weitao, a prominent actress who stars in the opera, attended the event as well. "When ancient Greek and Chinese civilizations are reflected off each other, we behold not only splendid art, philosophy, and humanities, but, more importantly, the minds of both nations," Mao said.
October 9, 2021

October 8, 2021

September 30, 2021
August 10, 2021