'Down to earth' photography exhibition held in E China reflects country's real life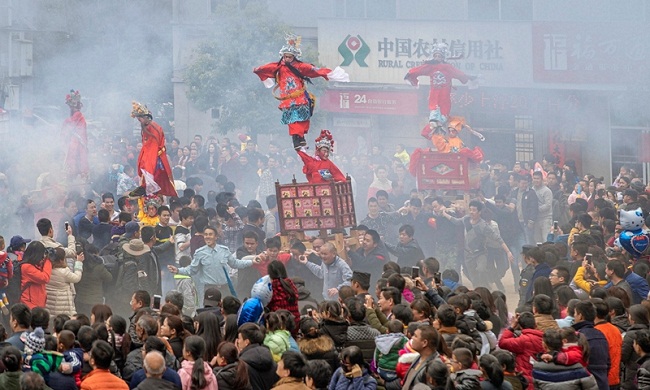 One of the photographs showcased in the exhibition. Photo: Courtesy of Chen Wei
The National Photography Exhibition is now being held in Hangzhou, East China's Zhejiang Province, where hundreds of works are collected and showcased, reflecting the country's everyday life on its way to a moderate prosperity in all aspects.
Named as "Walking in China," the Gao Fan Cup has debuted its second exhibition after months of work to collect and select photographs from hundreds of thousands of participating pieces across the country with three key themes of "land, people and life."
The 2021 exhibition has received 39,566 works from nearly 5,000 participants, an increase of nearly 10,000 works compared to the first exhibition, with 120 photographs standing out for the exhibition.
Among all the selected works a variety of photos can be seen, from the natural scenery alongside the Chinese rivers, to the sights of bustling trading in small markets in eastern China.
The exhibition is part of the celebration of the 100th anniversary of the founding of the Communist Party of China(CPC), Gao Qin, Secretary-General of the Chinese Photographers Association, mentioned in a speech during the exhibition's opening ceremony on September 30.
The Gao Fan Cup is named after the renowned Chinese photographer Gao Fan. Born in 1922, Gao is considered as one of the pioneers and founder of the country's military field photography.
During the War of Resistance Against Japanese Aggression (1931-45) and the Chinese People's War of Liberation (1946-49), Gao took the lead in many magazines, to publish a large collection of images of the CPC and military history, which is still used by many museums and art galleries in the country.
"It is necessary for us to pass on the work which conveys the beauty and essence of people's life through photography," Wu Weidong, deputy head of the local government of Hangzhou's Xiaoshan district, said in a public notice.
The exhibition debuted on September 30 and will last until October 15.
October 11, 2021

October 9, 2021
October 11, 2021