Hangzhou's wetland biodiversity, beauty bring expats together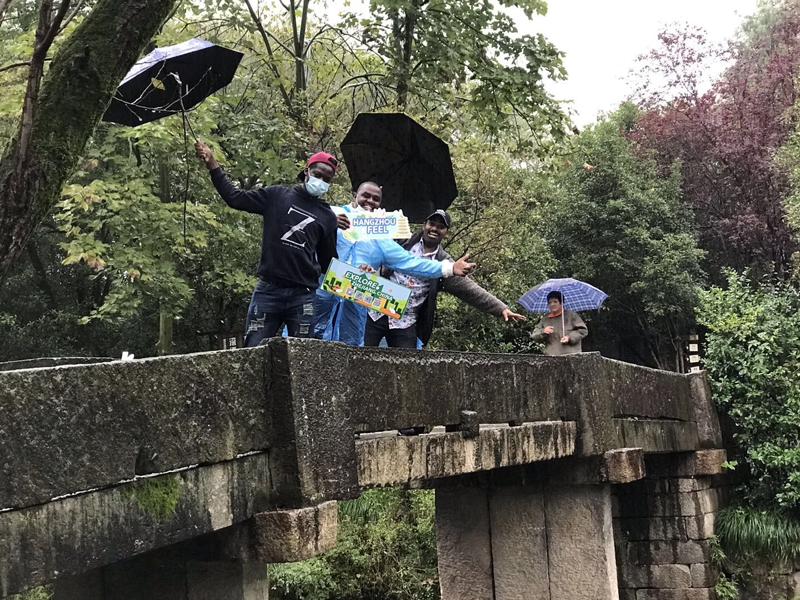 Mutawarira Takudwa (L) from Zimbabwe and his friends pose for a group photo at Xixi National Wetland Park on Oct 20.[Photo provided to chinadaily.com.cn]
A group of expats from eight foreign countries joined in a joyful trip to Hangzhou on Oct 20 to learn more about the wetland biodiversity and ecological beauty of Zhejiang.
The eight foreigners, hailing from Australia, Mexico, Bolivia, Japan, Georgia, Zimbabwe, Sudan, and Kenya, mostly have been long-time residents in China, but they still claimed to have been treated with "visual feasts" during their visit despite drizzling rain.
Their itinerary included two main wetland parks in Hangzhou – West Lake, which is well-known for its picturesque landscapes and cultural heritage and Xixi National Wetland Park, China's first and only national wetland park to combine urban life, farming, and wetlands.
During their three-hour exploration at West Lake, the expats toured the site of Ancient Qiantang Gate, the Marco Polo Statue, the Su Causeway and the Broken Bridge, and were introduced to various efforts taken by Hangzhou over the years to achieve an upgraded environment.
Jin Jiaying, the guide for the West Lake tour, said that the measures include clearing silt, circulating water to improve the West Lake and promoting public awareness of environmental protection.