Zhejiang setting the pace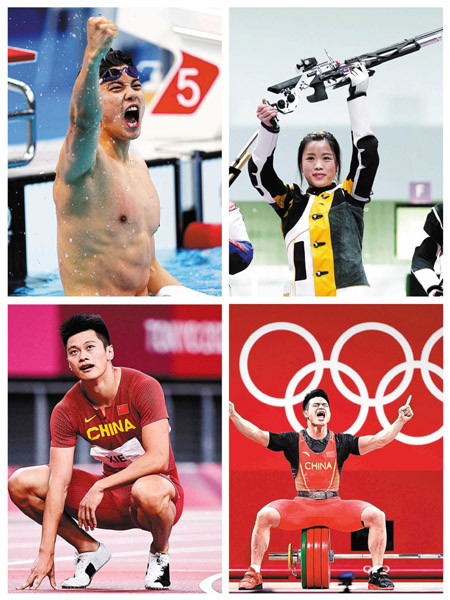 Clockwise from top: Swimming ace Wang Shun, Olympic shooting champion Yang Qian, weightlifting goliath Shi Zhiyong, and star sprinter Xie Zhenye are among a host of elite performers to emerge from Zhejiang's renowned sports training bases. Xinhua/Provided to China Daily
Province's training expertise and elite-level infrastructure yield medal-laden year
From grassroots to elite level, Zhejiang is in a league of its own when it comes to athletic excellence.
Long renowned as a cradle of champions, the province's unwavering commitment to sports continued to reap rich rewards this year.
Thirty-three Zhejiang athletes returned home from the Tokyo Olympics with seven gold medals, two silvers and a bronze. A month later, the province's team amassed a haul of 44 gold, 35 silver and 37 bronze medals at China's 14th National Games.
"Recently, sports development in Zhejiang has faced three major tests-the Tokyo Olympics, the National Games and the Asian Games in Hangzhou next year. We have had great results in the first two tests," said Zheng Yao, the director of Zhejiang Sports Bureau.
"With the support from the General Administration of Sport of China, we have been working closely with the national teams to seek new training and cooperation methods. We have sent many of our outstanding athletes and coaches to various national squads.
"For each of our top athletes, we have personalized training plans and specialized coaching teams. We also have cooperation and communication with high-level foreign athletes and coaches. That's why we witnessed the emergence of a group of outstanding athletes such as Wang Shun and Xu Jiayu in the pool, and Xie Zhenye on the track."
Zheng also credits the province's renowned sports schools and training bases for the success.
The sport of shooting, for instance, has 43 local training bases, where over 1,500 athletes-41 of whom are national team members-hone their skills. Almost 5,000 swimmers, including 20 Team China members, enjoy the benefits of 48 training bases in Zhejiang. Badminton, meanwhile, boasts 31 training centers in the province, with 16 internationals among a pool of around 2,600 shuttlers.
Zhejiang Sports Bureau is also working closely with various organizations and companies to facilitate the growth of many new sports and those that are not the traditional strong suit of the province, such as sports climbing, equestrian and golf.
Cooperation with Zhejiang Greentown Football Club, for example, yielded gold for Zhejiang's men's under-20 soccer team at the National Games last month. With the help of the club, Zhejiang now has 40 soccer talent bases, coaching almost 6,000 players.
Two-time Olympic weightlifting champion Shi Zhiyong is one of Zhejiang's biggest success stories.
The 28-year-old, who won gold in the 73-kilogram category at the Tokyo Games, never forgets his roots and still loves to return home and train at Ningbo No 2 Youth Amateur Sports School, where he spent the early stages of his career.
"I came here for my first training in 2008, and at that time there was just one building in the base," Shi told media at the school last week.
"Over the years, I have witnessed the development of the base and they have witnessed my improving performances. This is my home and I love spending time here to train.
"The next generation can be motivated to train along with the older athletes who have achieved something. I always like to spend time with them. If they do something wrong, I will point it out-it's an effective training method for them."
Ningbo's world-beaters
Much of Zhejiang's athletic success emanates from Ningbo.
Athletes from the city won five gold medals at Tokyo 2020, and refreshed one world record, one Olympic record and one Asian record. At September's National Games, Ningbo athletes claimed 20 gold, 11 silver and 11 bronze medals.
Wu Chengjun, an official of Ningbo sports bureau, says the city's comprehensive sports infrastructure is a key component in tapping into athletes' potential.
"We have a series of preferential policies to support the development of competitive sports and the national fitness campaign," said Wu.
"From 2016 to 2020, we invested heavily in the sector, especially in terms of upgrading sports facilities in our city. For example, we invested a total of 470 million yuan ($73 million) in sports schools.
"We have also been attracting more sports talent to our city through different programs. For instance, we provide good healthcare to the outstanding athletes and coaches, and we can also help their children find good schools or help their spouses find good jobs in the city."
Ningbo born-and-bred Wang Shun did the city proud in the Tokyo 2020 pool, powering to gold in the 200m individual medley. A month later, he bagged a whopping six gold medals at the National Games.
Wang spent years training and studying at Ningbo Water (Swimming) Sports School, and the Olympic champion returned to his old stomping ground last week to encourage the next generation of swimmers.
"I'm a Ningbo native and I'm very excited every time I speak of my hometown. My childhood was like all the kids here now, training every day," said Wang.
"Speaking of the Olympics, I encountered many difficulties during my preparation for the Tokyo Games, including injuries. But none of this could stop me from chasing my dream of winning the gold medal.
"Zhejiang swimming enjoys such great success today thanks to the collective efforts of generations of athletes and coaches. We also have the best coaches, from elite level to grassroots."
Ningbo Sports School, established back in 1956, has long been a cradle of champions and continues to churn out elite performers.
Yang Qian, who shot to overnight fame by winning the first gold of the Tokyo Games in the women's 10m air rifle, spent her formative years at the school.
"Yang Qian was a student at our school from fifth grade, before she eventually moved on to Tsinghua University. She built a solid foundation of shooting and academic study at our school," Yang's former teacher, Wang Jiaona, told China Daily.
"We had about 40 students in each class when Yang Qian was here. They had five academic classes in the morning and shooting training sessions for about five hours in the afternoon on a daily basis.
"Yang Qian trained hard and studied hard-that's how she made it to Tsinghua. Before the high-school entrance exam, I remember she was always the last one to sleep in her dormitory in order to have extra time to prepare."
Wang said she watched Yang's golden moment on TV with colleagues.
"We were so excited. I always believed she would be the champion. I used to ask her how she would evaluate her own performance, and she would say she did not care about the performances of others, she would only focus on her own growth," Wang added.
Yang Qian's shooting coach from Ningbo Sports School, Xiang Xiaoxiao, was among the teachers cheering in front of the TV. She told China Daily she couldn't hold back the tears when Yang won in Tokyo.
"I remembered Yang Qian as a smart and brave little girl. She was curious about everything when she first came to our school," said Xiang.
"We know that to win the first gold at the Olympics was huge pressure both on her and the national team. She was able to approach the Games with the right mindset. We all know the huge effort and sacrifices she has made."