Yiwu's first expat businessman to open office in Hangzhou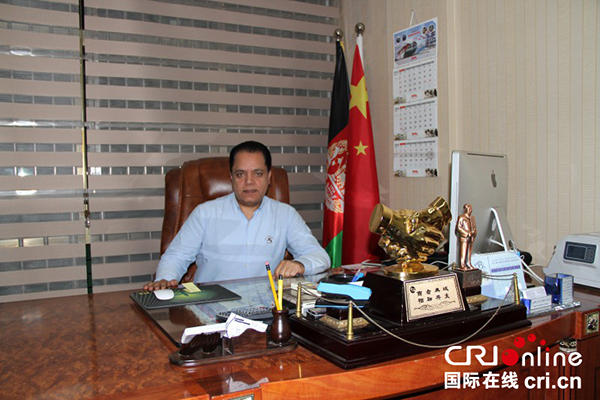 Qayoum Azimi, an Afghan businessman, in his office in Yiwu, Zhejiang province. [Photo/cri.cn]
In 1998, when many Chinese people were eager to find opportunities elsewhere, Qayoum Azimi, an Afghan businessman, spotted China's Yiwu as a hidden gem.
"I wanted to learn about Yiwu, a name that was printed on many Chinese products,"Qayoum said.
Azimi was one of the first foreign faces to settle in Yiwu and fell in love with the city at first sight. He soon realized that China could secure him a good life more so than Afghanistan, which was war-torn at that time.
Azimi opened his trading company in Yiwu in 2004 with a main focus on exporting products to Afghanistan, which was in high demand for consumers' goods. His business was expanding, so he decided to open more offices in India, the United States, and European countries.
In addition to running his brick-and-mortar business in his office during the day, Azimi would move to the street stalls at night to connect with his global partners who were in different time zones.
Over the past three years, Azimi has participated in the China International Import Expo to bring Afghan goods like olive oil, saffron and honey to China.
He recently participated in the fourth CIIE in Shanghai and his next step is to open a new office in Hangzhou. He also would like take part in public service activities to help students from poor families in Yiwu continue their studies.
"I hope every good person can get help when they need it, like the students I help, and when I needed help," He said.
November 15, 2021

November 8, 2021