Endeavors breathe new life into cultural heritage
During a sideline event of the 2021 Beijing Hangzhou Dialogue, cultural and art works reflecting Beijing's culture and lifestyles have attracted wide attention.
The Beijing Grand Canal, which was staged at the Hangzhou Grand Theater on Oct 22, is China's first theatrical production reflecting the Beijing section of the Beijing-Hangzhou Grand Canal.
Through the fusion of Peking Opera and Western symphony, it portrays socioeconomic development along the canal in Beijing.
Also popular is Sketches of Classic Beijing, which comprises more than 100 pieces of prose and illustrations.
The book introduces multiple cultural landmarks in Beijing to readers from the perspective of young people, reproducing modern lifestyles in the age-old capital.
Residents in Hangzhou, who were able to gain access to the arts, culture and lifestyles of another city, have developed a further understanding of Beijing not only as the Chinese capital but also as a city blending tradition with modernity.
Beijing presented a feast of shows, exhibitions and dramas in Hangzhou, Zhejiang province, during the 2021 China Grand Canal Cultural Belt Beijing Hangzhou Dialogue's sideline event, to promote the culture and history of the Grand Canal to audiences both at home and abroad.
The sideline event, Beijing Zhejiang Week, is a themed week initiated by the two places, aiming to promote both cities' cultures to each other and to the world.
Two years ago, the event was first held amid the trend of integrated development of culture and tourism.
In recent years, Beijing has dug deeper into the cultural resources of the Grand Canal.
A dazzling array of 118 works, including 31 shows, 23 films and 57 books, have made their debut, unveiling the history, local customs and legends involving the Grand Canal.
Thanks to the city's investment in cultural endeavors to protect and exploit the canal's valuable resources, which prioritize the protection of its natural river courses and important heritage sites, a park at the source of the canal, also known as the Baifu Spring, is under construction; restoration of ancient temples and towers, including the Luxian ruins park, is also underway.
Next, Beijing will focus more on the overall protection of the Grand Canal, its surrounding facilities and cultural heritages involved along the canal.
Chen Dong, director of the Beijing Culture and Tourism Bureau, said that the weeklong event has not only strengthened the cooperation between Beijing and Hangzhou in the cultural tourism industry, but also carried forward the innovative development of cultural tourism along the Grand Canal.
Over the years, Beijing's cultural tourism industry has been in full swing.
In 2019, 320 million trips were made across Beijing, with the total tourism revenue reaching 622.4 billion yuan ($97.36 billion).
In 2020, 24,000 commercial performances were put on various stages, while more than 20,000 shows were presented in cultural activities in the capital.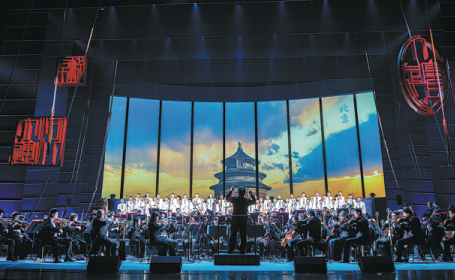 The Beijing Grand Canal, China's first theatrical production combining Peking Opera and Western symphony is staged at the Hangzhou Grand Theater, Zhejiang province, on Oct 22. WANG ZICHENG/BEIJING NEWS
November 8, 2021

November 5, 2021