600 global diplomats, scholars discuss CPC governing experiences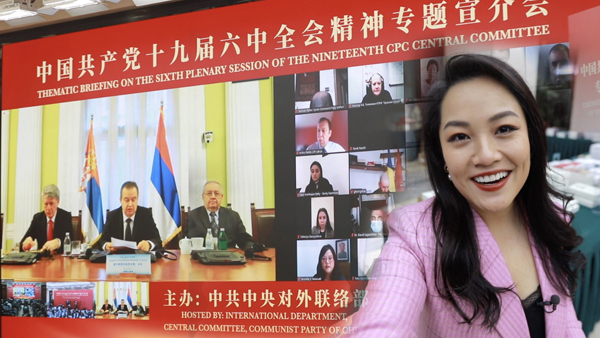 What does the world think about the governing of the Communist Party of China (CPC)?
An exchange of thoughts took place among 100 senior diplomats and 500 representatives of different organizations across the world at the International Department of the Communist Party of China (IDCPC) as it held the thematic briefing on the Sixth Plenary Session of the 19th CPC Central Committee on November 19th.
During the event, experts and diplomats reviewed the experiences and history of the CPC in the past 100 years, and how it successfully brought China from being a war-torn country to one of the world's largest economies.
Several ambassadors based in Beijing attended the event, including Russian Ambassador Andrey Denisov, Egyptian Ambassador Mohamed Eladri, Madagascar Ambassador Jean Louis Robinson and Laos Ambassador Khamphao Ernthavanh.
Leaders and representatives of different political parties also joined virtually, including Serbia's National Assembly Speaker and President of the Socialist Party of Serbia, Ivica Dacic; Leader of the Worker's Party and former President of Brazil, Dilma Rousseff; and President of the Communist Party of Spain, José Luis Centella.
Check out the video to hear what ambassadors and experts from the world say!
November 24, 2021

November 17, 2021

November 16, 2021