Party's capacity for reform strengthened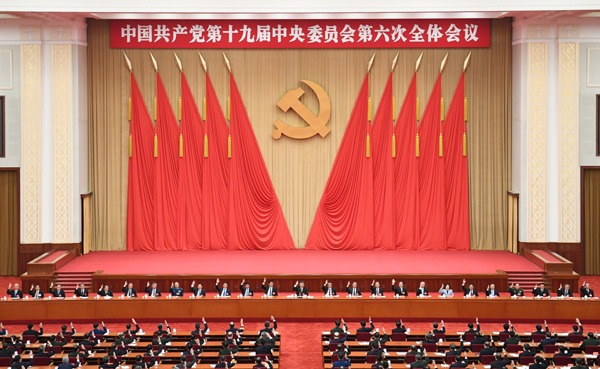 The 19th Central Committee of the Communist Party of China convenes its sixth plenary session in Beijing. [Photo/Xinhua]
An overwhelming victory has been achieved in the fight against corruption, and this momentum has been consolidated across the board, according to a landmark resolution of the Communist Party of China.
The Resolution of the CPC Central Committee on the Major Achievements and Historical Experience of the Party over the Past Century was released on Tuesday. It was adopted at the sixth plenary session of the 19th CPC Central Committee, held from Nov 8 to 11.
The resolution said that by taking resolute action since the 18th National Congress, the Party has given full play to the role of full and strict Party self-governance in providing political guidance and guarantees.
The Party's ability to improve and reform itself and maintain its integrity has been significantly strengthened, and the problem of lax and weak governance over Party organizations at the fundamental level has been addressed, the resolution said.
"As serious potential dangers in the Party, the country, and the military have been rooted out, our Party has grown stronger through revolutionary tempering," it said.
At a meeting held by the CPC Central Commission for Discipline Inspection on Nov 12 to study the guiding principles of the Party's plenary session, Zhao Leji, the top anti-graft official, called on disciplinary organs across the nation to contribute to the Party's self-revolution in the new era.
Resolute efforts should be made to carry on the battle against corruption and consolidate the achievements in the Party history learning campaign, he said.
Hu Jianmiao, a law professor at the Party School of the Central Committee of the Communist Party of China (National Academy of Governance), said remarkable achievements have been made in promoting the full and strict governance over the Party and the fight against corruption since the Party's 18th National Congress in 2012.
Advancing governance
Between December 2012 and May this year, disciplinary inspection and supervisory bodies investigated 392 officials at or above the provincial or ministerial level and 22,000 at the bureau level suspected of bribery, according to data from the CCDI.
Since the 2014 launch of the Sky Net anti-corruption operation, 9,165 fugitives, including 2,408 Party members and government staff, have been brought back from 120 countries and regions, and 21.74 billion yuan ($3.4 billion) in embezzled funds has been recovered, data showed.
A survey conducted by the National Bureau of Statistics at the end of last year showed that 95.8 percent of people are confident in the enforcement of strict Party governance and the curbing of corruption, a 16.5 percent increase over the 2012 survey conducted before the 18th CPC National Congress.
"Any act of corruption is against the rule of law," Hu said, adding that the fight against corruption and the advancement of law-based governance are highly consistent, and tackling corruption is both an important task and a requirement for advancing the rule of law.
November 24, 2021

November 17, 2021

November 16, 2021