Chinese democracy wins global praise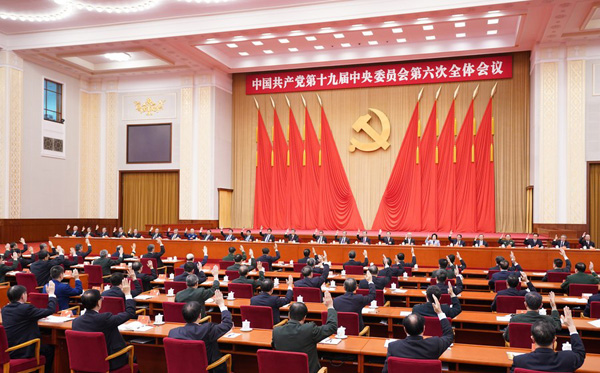 The Political Bureau of the CPC Central Committee presides over the sixth plenary session of the 19th CPC Central Committee in Beijing. [Photo/Xinhua]
Foreign diplomats and leaders of foreign political parties have hailed China's democracy and its development path while denouncing attempts by some countries to divide the world into different camps or rival groups.
The attempt by the United States to classify people and countries into democratic and undemocratic ones was wrong and would only make the world suffer, which was bound to draw various criticism from the world, said Andrey Denisov, Russia's ambassador to China, during a briefing on the sixth plenary session of the 19th Central Committee of the Communist Party of China in Beijing on Friday.
His remarks came as Washington prepared to host a virtual "Leaders' Summit for Democracy "in December.
Denisov said that only a few countries could meet such a false criterion as the one set by the US.
"If so, there are only about 30 to 35 countries in the world that are democracies, which is a minority, as there are over 200 countries that are members of the United Nations," he said.
He said that the US, due to its mounting internal problems, had become the worst representative of democracy, rather than the model of it.
While applauding China's great achievements in combating COVID-19 and tackling economic problems, he said countries should learn from China, which strives to solve such problems through development.
Noting that Russia and China have firm convictions over their right paths of development, he said "the truth always belongs to us".
China has always said that whether a system is democratic depends on if it can represent the overall interests of the people and whether the people are satisfied. Such a viewpoint is being recognized by an increasing number of countries.
Many of the more than 130 participants in a webinar on democracy and human rights, which included members of over 60 permanent missions to the UN Office at Geneva, said that the effectiveness of democracy should be gauged by results-based standards.
The webinar was co-hosted by the permanent missions of China and Russia to the office on Thursday.
They called into question elections that failed to select leaders with outstanding competence, freedom of speech that only led to social division and the so-called protection of personal rights that contributed to millions of people dying of COVID-19 as a result of indiscriminate measures.
They said that no one should monopolize the right to define democracy. There is no such thing as a supreme model of democracy in the world. States should be free to choose the political systems and development path suited to their respective national conditions.
November 24, 2021

November 17, 2021

November 16, 2021