Hangzhou SMEs optimistic about Beijing Stock Exchange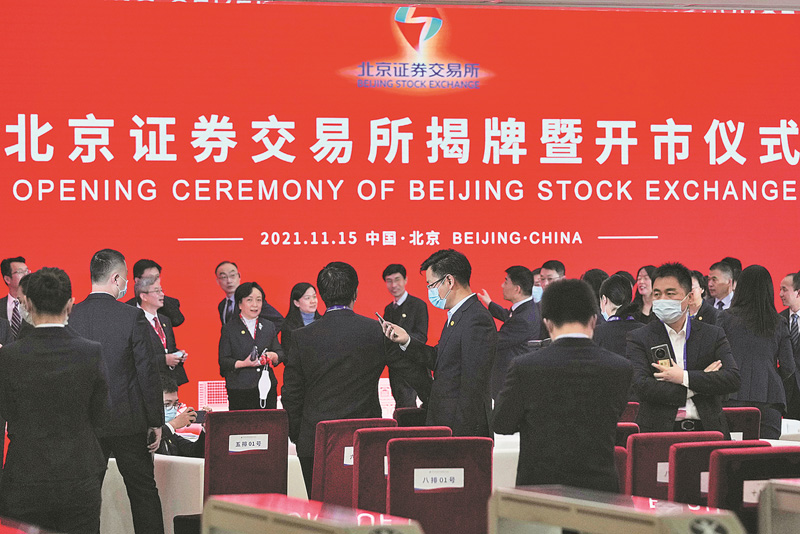 The opening ceremony for the Beijing Stock Exchange is held on Nov 15. [Photo/Agencies]
Since the Beijing Stock Exchange was first launched on Nov 15, innovation-oriented small and medium-sized enterprises in Hangzhou have been showing their capabilities on the stock market, local media outlets reported.
Gcom Technology, a high-tech company based in Binjiang district, Hangzhou, was one of the first 81 companies to be allowed to trade on the BSE. Established in 2012, Gcom developed as a solutions provider of information communication technology services and has seen its annual revenue double from 1.23 trillion yuan ($193.31 billion) in 2018 to 3.33 trillion yuan in 2020.
"As one of the first to trade on the BSE, we felt honored, inspired, and deeply responsible," said Zhao Guomin, chairman of the company.
Zhao said he thought the bourse had built a bridge between SMEs and capital, bringing both sides enormous opportunities.
"I believe Gcom Technology will receive solid support from the capital market after being listed and we will be sure to pay back investors with better performance," Zhao said.
Public data show the total trading value of the first 81 BSE-listed companies has exceeded 21.2 billion yuan in the bourse's first trading week, with these companies' prices rising by 3.75 percent on average.