Hangzhou science teacher brings stars to rural children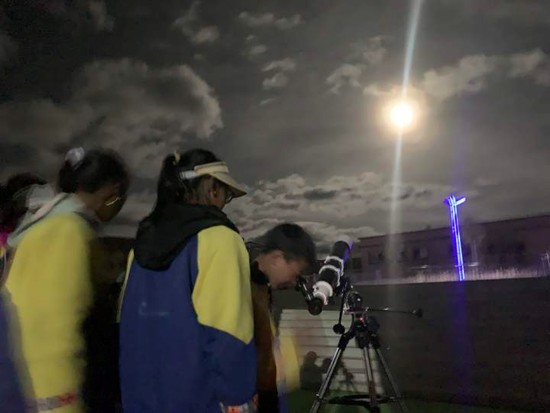 Students observe the sky through a telescope at the No 4 Wanquan Primary School in Litang county, Sichuan province. [Photo/hangzhou.com.cn]
More than three months ago, Wang Jianyu, a science teacher at Xinwan Primary School in Hangzhou, Zhejiang province, arrived at the No 4 Wanquan Primary School in Litang county, Sichuan province to provide educational support.
This is the first time Wang, a science teacher and avid astrophile, has taught in a school located at an altitude of more than 4,000 meters, and this has allowed him to view the most beautiful night sky in his life.
"When I was in Hangzhou, I often taught kids astronomy and organized astronomical observation activities," Wang said. "But there are few chances to see such a splendid night sky in Hangzhou."
After arriving in Litang county, Wang realized that local students did not know much about astronomy due to a lack of science teachers. To stimulate their enthusiasm, Wang dug into his own wallet and spent 1,000 yuan to buy a telescope so that the children could get a glimpse of the universe.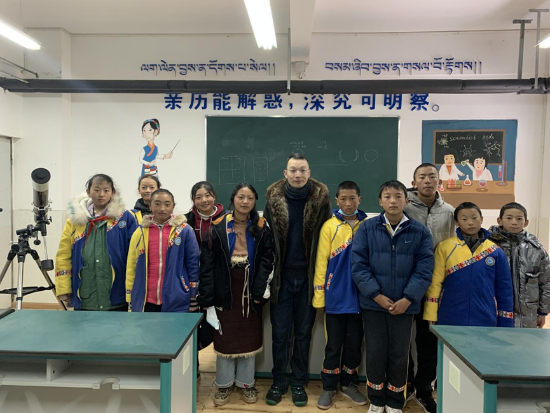 Wang poses with his students. [Photo/hangzhou.com.cn]
Wang also founded the school's first astronomy club.
Over the past three months, the members of the astronomy club have mastered how to operate the telescope.
According to the Hangzhou education authorities, seven teachers in Qiantang district including Wang have traveled to Litang to help improve the standard of education. The authorities have also promised that Qiantang will continue to bring high-quality education resources to Litang in the years to come.
November 29, 2021

November 24, 2021

November 17, 2021