Qu Duyi: Recipient of Party's highest honor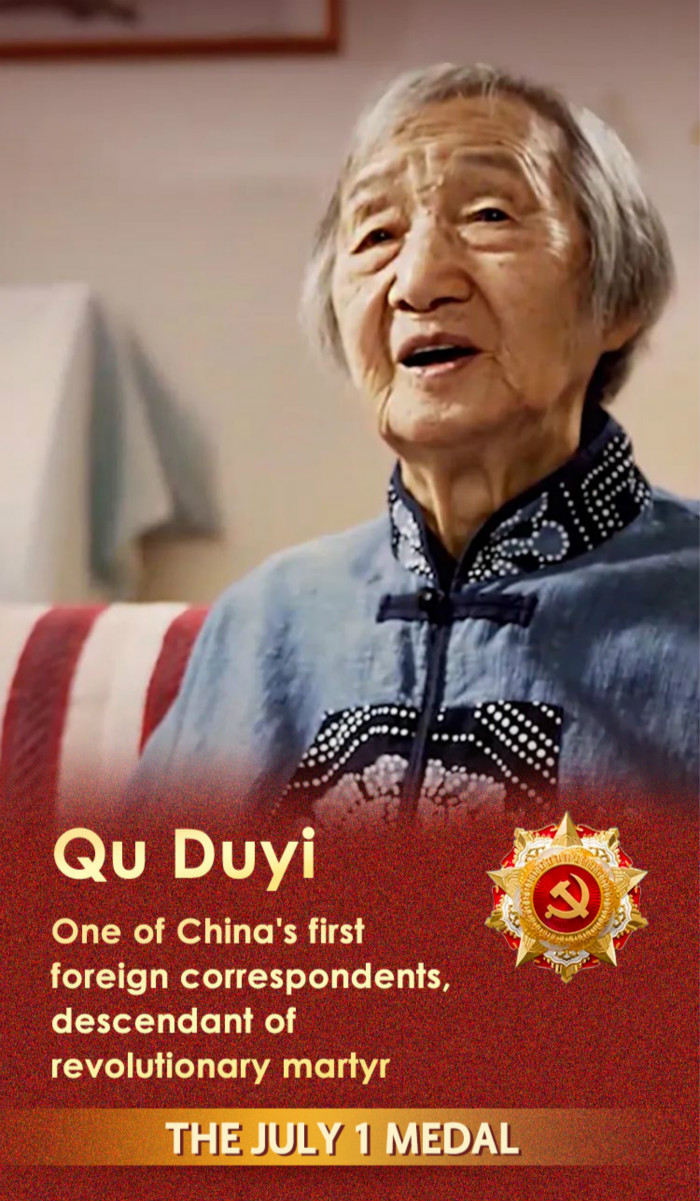 Qu Duyi, one of China's first foreign correspondents. [Photo/chinadaily.com.cn]
Qu Duyi, the only journalist to receive the July 1 Medal, the highest honor of the Communist Party of China, passed away in Beijing on Nov 26 at the age of 100.
Qu was born in November 1921 and joined the CPC in August 1946. She was the stepdaughter of Qu Qiubai (1899-1935), a leader of the CPC in its early period. Her mother, Yang Zhihua (1901-1973), became a CPC member in 1924 and was vice-chairperson at the All-China Women's Federation from 1949 to 1967.
In 1941, Qu was captured by a warlord along with 150 CPC cadres and their family members. She refused to defect despite cruel treatment while in captivity. In 1946, Qu was rescued and sent to Yan'an, Shaanxi province, which was then the base of the CPC Central Committee.
At the founding ceremony of the People's Republic of China on Oct 1, 1949, Qu was the Russian-language translator for Chairman Mao Zedong's speech.
Qu was one of the first journalists at the Moscow branch of Xinhua News Agency and was a translator for China's diplomatic mission to the former Soviet Union.
A total of 29 outstanding members of the Communist Party of China received the July 1 Medal, the highest honor in the Party, on June 29.
Those honored for their devotion to the people and commitment to the Party's mission are from all walks of life, ranging from a teacher and textile worker to a soldier and doctor. Their awards drive home not only how much their efforts and achievements are appreciated, but also how their strength of character and moral integrity have inspired others.
Although the times have changed tremendously since the Party was founded in 1921, the spirit and quality these 29 individuals represent have remained unchanged, as these essential attributes have been inherited by generation after generation of Party members.