Zhejiang hosts first digital painting exhibition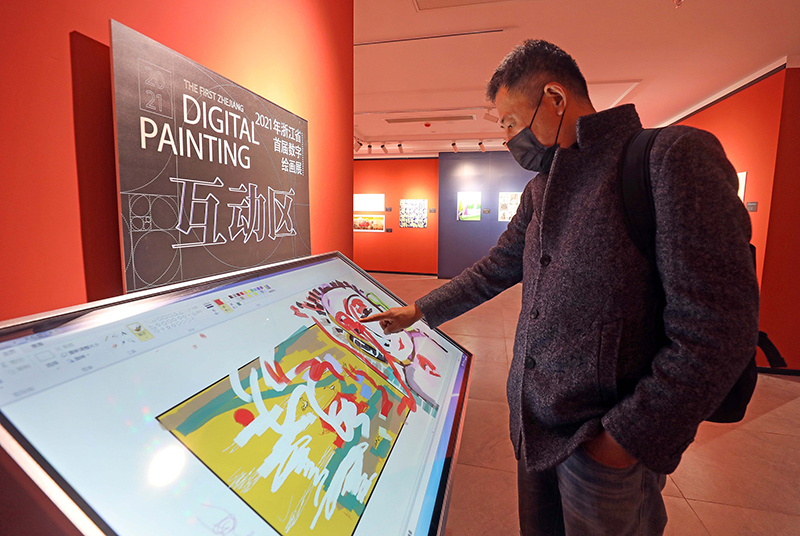 A visitor interacts with a digital painting on a touch screen. [Photo/CFP]
The first Zhejiang Digital Painting Exhibition, which was themed around art and technology, opened in Hangzhou, capital of East China's Zhejiang province, on Nov 30. It will run until Dec 8.
In comparison with traditional paintings, digital paintings pay more attention to interactions with the audience, which are commonly realized through digital software, graphics drawing tablets, and touch screens. They also aim to bring more digital-like presentations and viewing experiences.
A total of 70 digital paintings stood out from the 1,377 submitted works and were displayed at the exhibition. Some of the creators were from professional art colleges, while some were painting masters from different domestic towns and cities.
The works covered a wide range of topics, such as Qiantang River culture, which was nurtured by Hangzhou's mother river the Qiantang River, and Song Dynasty (960-1279) culture, which was once popular in Hangzhou as the city was the capital of the Southern Song Dynasty (1127-1279).
The exhibition was co-organized by the Zhejiang Artists Association, the Zhejiang Provincial Cultural Center, as well as the Hangzhou Shangcheng district culture, radio, television, tourism, and sports bureau.
January 4, 2022

December 23, 2021

December 22, 2021
January 5, 2022