Chinese-made robots are now sorting the mail in Greece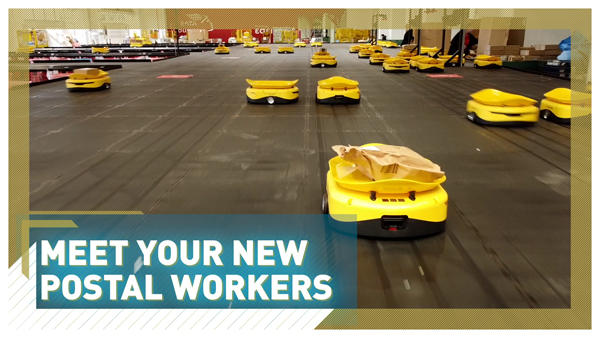 In a country where mail delivery can be notoriously unreliable, Greece's postal service has begun using a Chinese-made robotic method for sorting items. A fleet of 55 small, yellow robots.
"The robots are a really nice and convenient technology. It does the distribution that we would do by hand and also it let us know once the basket is full with parcels so we can send it out to bureaus across the country," said the supervisor at the center for sorting at Hellenic Post, Vassilis Floropoulos.
"We place the parcel with QR code facing up, it reads the barcode and the postal code and then it sends it to the right bin."
About two months ago, Greece's national postal services provider ELTA introduced a fleet of 55 of the robots to join its employees at the group's facilities in Kryoneri, north of Athens.
They have taken over a process that until recently was either semi-mechanized or done manually.
This Chinese-made robotic system developed by a company called Zhejiang LiBiao is the first installation of its kind in Europe.
ELTA's management believes this investment will allow better use of the service's human resources.
"They work more efficiently and also they don't tire," said Errikos Tzavaras, CEO at ELTA Courier.
"There are night shifts here, when it is very difficult for people to walk around and then they make mistakes and then people might yell at them because they didn't do the job correctly... with this technology everything is done more efficiently."
The robots receive parcels at eight infeed stations, identify their destination through a code-scan, and distribute them to 144 sorting destinations, handling currently nearly 76 percent of total deliveries at the center.
However, when robots are mentioned in the workplace so does the fear of job cuts and fewer opportunities for people.
But according to the postal service, this situation improves working conditions for human workers.
"All employees that existed before this technology, still exist. The job is much easier, it's not tedious. If you talk to them [employees] you'll see that the job is much easier and much more flexible," said Tzavaras.
The deployment of the robots has also helped create a COVID-19-free environment at the postal sorting center, allowing operations to continue and people to keep their jobs.
As many Greek companies emerge from the pandemic, it seems likely more will to turn to robots as they look to streamline operations and embrace digitalization.