Pakistani researcher designs qipao to bridge Sino-Pakistani ties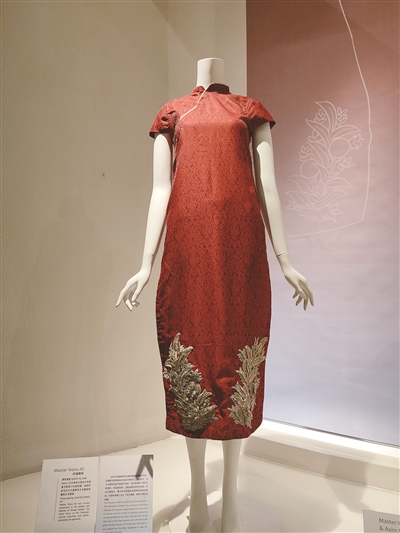 A qipao designed by Asim Mushtaq is exhibited at the China National Silk Museum in Hangzhou, Zhejiang province. [Photo/Hangzhoufeel]
Asim Mushtaq, a Pakistani doctor who specializes in smart nano bio-materials for cancer diagnosis and treatment at Zhejiang Sci-Tech University, recently added another title to his name - a fashion designer.
With the aim of fostering closer ties between China and Pakistan, Mushtaq designed two qipaos which he showed off at the 2021 Global Qipao Festival and Invitation Exhibition held in Hangzhou, according to a report by the China Economic Net and Associated Press of Pakistan.
Both dresses were made using Zari, a fabric popular during the Mughal era, and synthetic silk as regular silk are not common in his country.
For one of the qipaos, Mushtaq replaced the traditional knotted buttons with small mirrors known as Sheesha, which originated in Iran and were brought to India during the Mughal era. Lavender flowers were embroidered on the bottom of another dress, which makes the creation resemble the outfits worn by Pakistani royalty.
The two exquisite dresses are currently on display at the China National Silk Museum in Hangzhou, Zhejiang province.
Mushtaq said he is determined to become a bridge connecting China and Pakistan, a philosophy he has derived from "和", his favorite Chinese character that is usually used to connect words.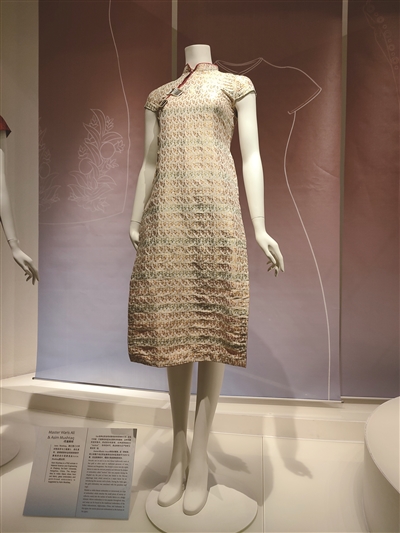 A qipao designed by Asim Mushtaq is exhibited at the China National Silk Museum in Hangzhou, Zhejiang province. [Photo/Hangzhoufeel]