Hangzhou offers digital, smart assistance to the disabled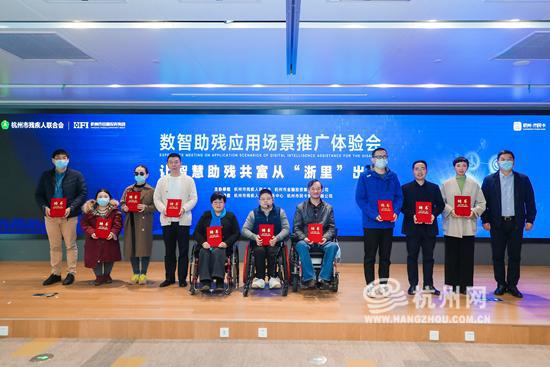 Hangzhou holds a promotional activity about its digital and smart assistance platform for people with disabilities. [Photo/hangzhou.com.cn]
Hangzhou in East China's Zhejiang province has completed the construction of a digital and smart disabled-assistance system consisting of eight practical scenarios, local media outlets reported.
The system is accessible via mobile apps including "Zhe Li Ban", an integrated online service platform offered by the General Office of the People's Government of Zhejiang province, Hangzhou City Brain, and Hangzhou Citizen Card.
The eight scenarios cover all aspects concerning the work and lives of people with disabilities, such as assistive devices application, barrier-free travels, employment, voluntary services, preferential policies, and rehabilitation training.
Guo Bailing, a data engineer at technology giant Alibaba and also an experience officer of the new disabled-aid system, said he is delighted to see this kind of platform and services.
He recalled his experience of having to wait three months for a wheelchair after submitting his application to the residential community, then the sub-district.
"I was thinking about putting the entire application online as Hangzhou boasts developed internet and e-commerce industries. It can help people with disabilities enhance the efficiency in application and quickly solve their difficulties," Guo said.
"My dream came true! I found that the channel for people with disabilities are easy to discover and easy to operate via the mobile apps," Guo added.