'Silent' café offers quiet retreat to Hangzhou residents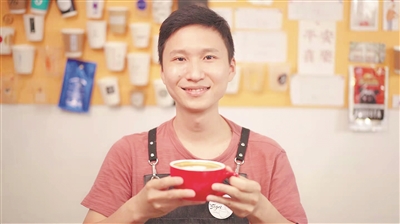 Lu Jun holds a cup of handmade coffee. [Photo/hangzhou.com.cn]
A "silent" café located on Xingzhou Street, Hangzhou, Zhejiang province has offered locals a quiet escape from the hustle and bustle of city life, Hangzhou Daily reported.
Run by Lu Jun and Yang Di, a couple with congenital hearing disorders, the 15-square-meter café opened three years ago and has since transformed from a little-known to a must-visit caféwith over 10 notebooks filled with handwritten messages from customers.
The couple has experienced many difficulties running a successful business and their hearing disorder poses a challenge to making good coffee. For example, able-bodied baristas often rely solely on their sense of hearing to determine whether the milk has been sufficiently fronted, as the different stages in the milk foaming process are accompanied by distinctive sounds. The couple, on the other hand, has trained themselves to achieve this simply by feeling how hot the milk jug is.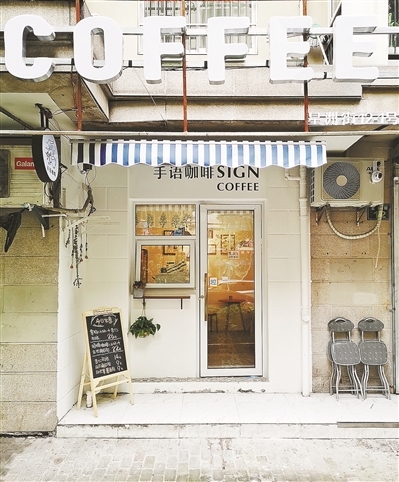 The storefront of Sign Coffee, which is run by Lu Jun and Yang Di, a couple with congenital hearing disorders. [Photo/hangzhou.com.cn]
In addition to running the café, the couple is also dedicated to sharing their knowledge and techniques with other people with disabilities. A 24-year-old man known as Xiaozhou served as their apprentice, and the couple taught him how to make coffee, a skill that helped the young man secure a job at a café in Zhoushan, a neighboring city of Hangzhou.
"He expressed his gratitude via WeChat and we are so happy for him," Lu said.
"Thank you for running such a great shop. You use your special light to illuminate the world and do something meaningful, which I believe will empower people." This sentence written on the message board perfectly encapsulates what this café is all about.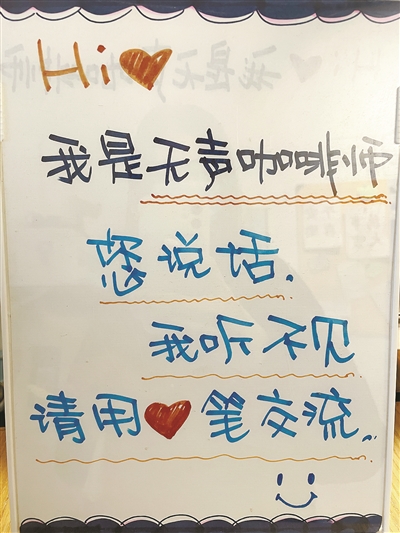 A signboard at the café encourages costumers to leave messages in a notebook. [Photo/hangzhou.com.cn]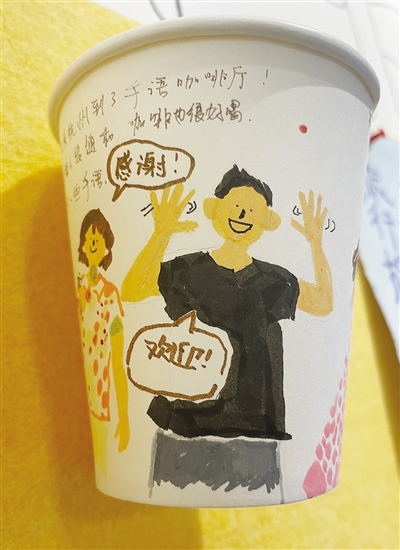 Doodles on a cup show the couple's gratitude to customers. [Photo/hangzhou.com.cn]