Hangzhou tightens digital management on livestream e-commerce
A digital management platform for livestream e-commerce started trial operations in Shangcheng district, Hangzhou recently, local media outlets reported.
As the first of its kind in China, the platform has taken into consideration four categories of livestream hosts, commodities, sales behavior, and digital governance. It aims to regulate the comprehensive management of the livestream e-commerce industry and maintain the city's leading role in creating a healthy and friendly livestream e-commerce environment.
The platform has taken advantage of cutting-edge technologies such as block chain, big data, and artificial intelligence, helping develop an illegal keyword library, an intelligent analysis model, and an intelligent illegal behavior identification and tag system.
There are currently 616 livestream companies, 963 livestream rooms, and 1,222 livestream hosts in Shangcheng district that are under the dynamic supervision of the platform.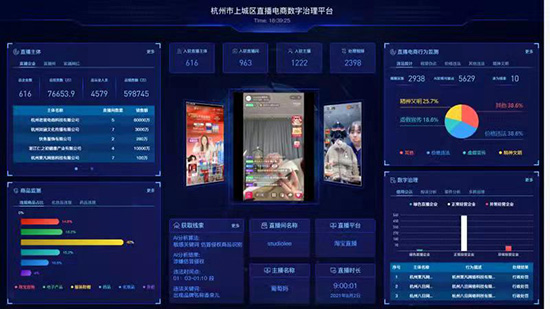 The interface of the digital management platform for livestream e-commerce, which is currently under trial operations in Shangcheng district, Hangzhou. [Photo/hangzhou.com.cn]