Drone delivery on duty in Tonglu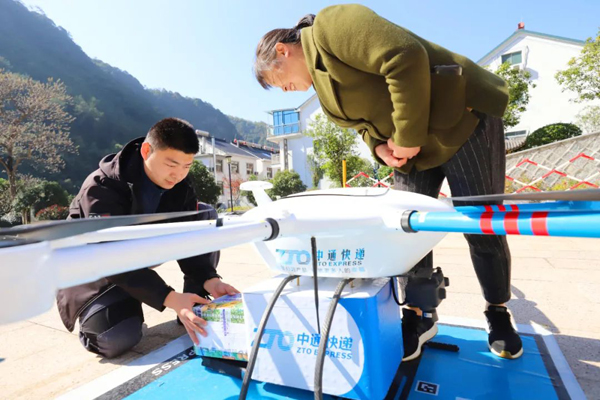 A courier helps a villager take her parcel from the drone. [Photo/WeChat account: dskb-dhz]
Residents of three mountainous villages in Fuchunjiang town, Tonglu county, Hangzhou can now have items delivered to their homes, as a one-meter-long six-motor drone run by ZTO Express was recently put into use for parcel delivery in the region, local media outlets reported.
"There used to be no delivery locations in these villages and local residents would spend over 40 minutes picking up parcels from the town by car. The roads to the villages only allow one car to pass at a time, making it quite inconvenient for delivery vehicles. If temperatures drop, icy roads can be even more dangerous," said Yang Jun, a senior drone delivery engineer at ZTO Express.
"With the help of drones, it takes us just seven minutes to safely and conveniently deliver parcels to villagers," Yang added.
The drone, with a maximum load of 15 kilograms, flies three to four days per week, carrying an average of 50 to 80 parcels of snacks, costumes and cosmetics per day. Bulk commodities should still be delivered by car.
The service is now being piloted in Tonglu, a county regarded as the home of the private express delivery industry in China.
"As the service develops, we will gradually promote it across China, making it available for the delivery of fresh agricultural products in rural areas and the delivery of parcels and emergency medical transport in urban areas," Yang said.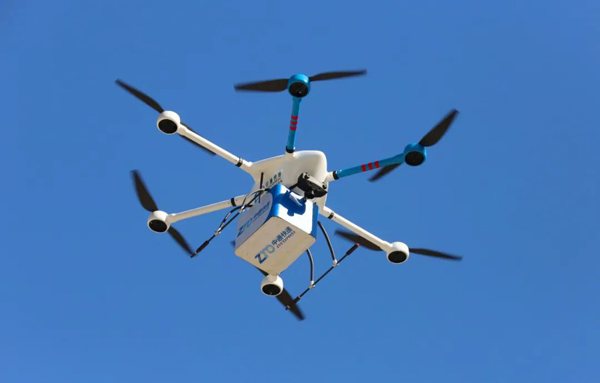 The drone can deliver parcels to villagers in just a couple of minutes. [Photo/WeChat account: dskb-dhz]